Motorola Milestone
A Googlephone for business?
Review Earlier this year, Motorola was doing a very good impression of a company that, if not quite dead in the water, was certainly looking increasingly like shark bait. But then came its Android-powered Dext, with some advanced social networking capabilities and a clutch of high-end features, and the US company suddenly seemed to be back in the race.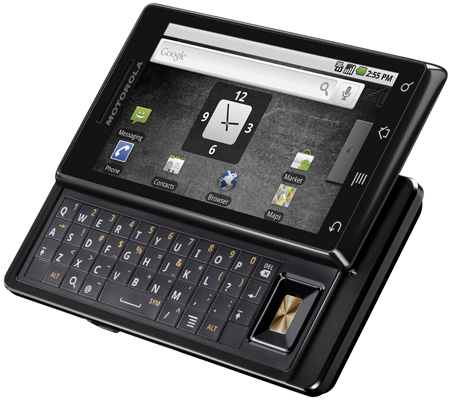 Landmark offering? Motorola's Milestone
Now with the Milestone it marks another, erm milestone, by being the first UK handset to run the new 2.0 version of the Android OS. Add in a slide-out Qwerty keyboard, 5 megapixel camera, improved browser, Wi-Fi, and A-GPS with sat nav capability, and things are looking very interesting at Motorola.
'Interesting' is probably as good a word to describe the look of the Milestone as any. It's not conventionally beautiful, with its block lines and that strange protruding lip at the bottom prevents any aspirations to cool.
It's solidly put together though, weighing in at a surprisingly heavy 165g for its 60 x 116 x 14mm dimensions. The weight is partly due to its metal casing, which features a rubberised coating on the back to prevent it sliding around on smooth surfaces.
The large screen sits above a touch-sensitive Android menu bar with back, menu, home and search buttons, while the sides sport a volume rocker, blingy gold-coloured camera shutter button and micro USB power/sync slot, with a power/lock button and 3.5mm headphone jack on top.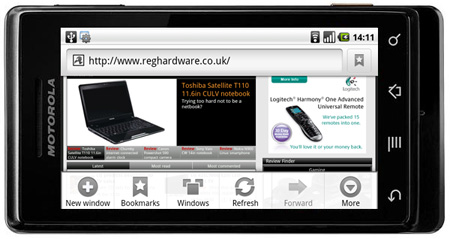 Smooth browsing but, on the surface, Android 2.0 looks much the same as previous versions
The slide-out Qwerty keyboard is nice and thin, but we found it just a little bit disappointing. It has four lines of good-sized keys with a large D-pad on the right. Yet, even though the keys are slightly raised, they're not as easy to find under the thumbs as recent models from Nokia or HTC. It's okay if you're not in a rush, but fast typing soon delivers typos.