The 3.7in capacitive multi-touch screen has a 480 x 854 pixels resolution. It's a bit overly shiny in sunlight and a fingerprint magnet too, but it's nice and bright and, overall, it looks gorgeous.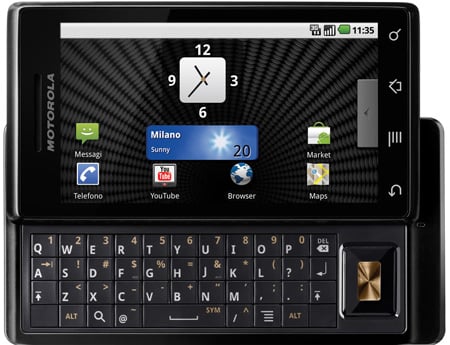 Great screen, but the keyboard could be more thumb-friendly
Some folk have been getting very excited about Android 2.0, but in truth, it's very much an upgrade rather than a reimagining. There's support for Microsoft Exchange email servers, which will make it more attractive to business users. Camera functions, such as digital zoom and flash have been added – not that they have to be utilised, as this depends on the camera the handset manufacturer chooses to use.
Other tweaks include gesture recognition – so you can draw pre-set shapes to act as shortcuts to particular functions – some improvements to the browser, a facility in contacts for displaying all available ways to communicate with anyone in your contacts book and an improved onscreen keyboard, not that there's much use for it with the Qwerty-packing Milestone.
Otherwise, Android 2.0 looks much the same – clean, intuitive, efficient – but a little neater, with smaller, better defined widgets and shortcut icons spread across its three screens. The unlock function is slightly different too, requiring a spin of a virtual wheel rather than a simple one-way brush to unlock the screen.
Google's Search city is a heightened search function you can access from your home page to search web or handset, and includes the voice search option, which worked very well. Call quality through the speaker was clear and rounded, with no hint of harshness. Volume didn't seem particularly loud though – so we'd have liked another notch higher to get us over the sound of heavy traffic.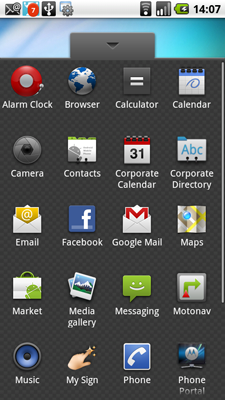 Gesture recognition allows shortcuts to common features
Strangely, Motorola has chosen not to include its social networking system, Motoblur, which did so much to make the Dext distinctive. So you don't get a window pulling together all your latest social networking updates. And you can't automatically pull in your Facebook contacts and pics either, which is a bummer.