Word from Motorola is that the Milestone is being touted as more of a business phone, though we'd have thought the lines between the two have long been very blurry, and business users use social networking just as much as anyone else these days. There are Facebook and Twitter apps aplenty in the Android Market of course, but it's a trick missed, we think.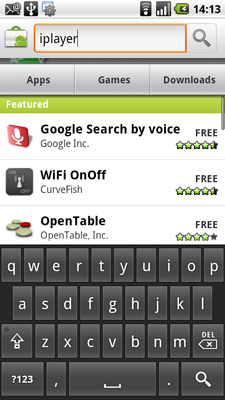 An on-screen keyboard is available in tablet mode
Besides the business bods synchronising with Exchange and Outlook, Google user account contacts and calendar information, as well as e-mail, of course, can be mirrored on the Milestone. Motorola Media Link comes on the accompanying CD for syncing music, pics and video – you can sync your email with a Mac, but not your contacts and calendar. There's also the Moto Phone Portal, which uses the cloud to update your info using the web and swap between phone and Windows PCs, but not Macs.
The new Android browser takes advantage of the multi-touch functionality so you can do the iPhone-style pinch-to-zoom thing (or double tap for quick zoom) and the action is beautifully smooth. Web pages are well rendered and navigation was swift, whether using HSDPA 3G or broadband over Wi-Fi.
The 550MHz processor may also have a part to play in this – we never noticed any lag with the menus or when playing videos either, even when we had several apps running at once. And overall, the battery on the Milestone, lasts about a day and half with moderate use.
The 5Mp camera has a reasonable spec, with a dual LED flash, auto focus, 4x digital zoom and macro mode. It starts quickly in about three seconds, but it has to be said, it doesn't quite cut it in the quality stakes. Images suffer badly from light saturation and capture easily blurs unless you hold it extremely still.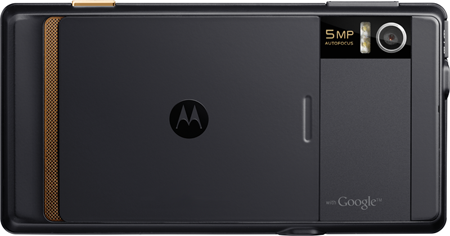 A 5Mp camera, but Android phones continue to deliver underwhelming snaps
Colours tend to look flat and lifeless, while noise creeps in all too readily and isn't really as sharp as we might have expected from a 5Mp shooter. It might be able to boast a couple of megapixels more than the iPhone, but we couldn't in all honesty say it takes better pictures. Video drops the quality even more and while we wouldn't be ashamed to use it to post on Youtube, we probably wouldn't want to shout about it either.