A-GPS is supported by the ever-reliable Google Maps, but the Milestone also comes with a 60-day free trial of Motonav, Motorola's new satnav app, already on board. It's decent enough, with clear displays and efficiently articulated voiceovers, but it's way behind the likes of TomTom and Wayfinder in terms of functionality, varied map views and the additional info offered by the big boys in the satnav pool.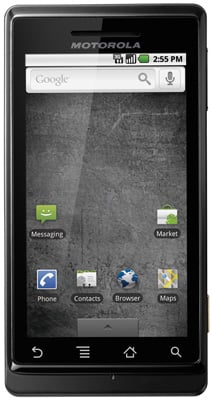 Media friendly, but no Motoblur social networking
Watching video on the large, beautifully detailed screen was a joy, and it can handle MPEG-4, H.263 and H.264 files. The music player is nicely laid out and features a quick search function that allows you to look for associated music on the web.
It can play MP3, AAC, eAAC+, OGG and WAV files too and comes with an 8GB micro SD card, though it can handle up to 32GB versions. It's under the back cover, and you'll need to remove the battery to get to it, which seems like a throwback to a long-gone, pre-hot swap era.
Verdict
The Milestone marks another step forward in Motorola's renaissance. It's a joy to use, thanks to its sensitive screen and decent, if not the very best, Qwerty keyboard. The tweaks to the Android OS are welcome, if not exactly ground-breaking and though the camera could have been a bit better, and we're bewildered by the decision to omit Motoblur, it's a top quality smartphone with satnav. ®
More Android Smartphone Reviews...

Acer
A1 Liquid

Motorola
Dext

HTC
Hero

T-Mobile
Pulse

Motorola Milestone
Alas, no Motoblur but, nonetheless, a top-notch Android smartphone.