This article is more than 1 year old
Stargazers spy super-Earth waterworld
Bit too hot for Kevin Costner, though
Astronomers from the Harvard-Smithsonian Center for Astrophysics (CfA) say they've spotted a super-Earth waterworld orbiting a red type M star some 40 lightyears from Earth.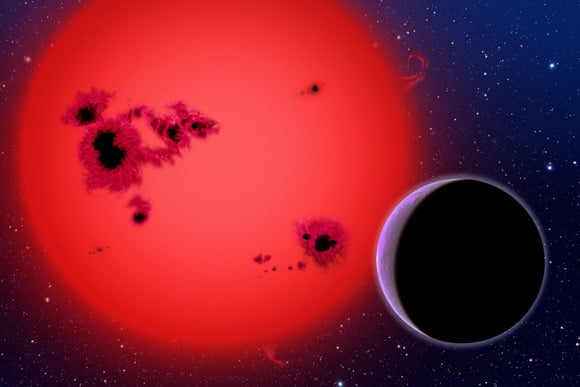 The body - dubbed GJ1214b - is circling dim host star GJ1214 every 38 hours at a distance of just 1.3 million miles. The star's modest surface temperature of 2,700°C, though, means that GJ1214b itself is a balmy 200°C.
The planet has a mass and radius of 6.5 and 2.7 times that of Earth, respectively. The density obtained from these figures "suggests that GJ1214b is composed of about three-fourths water and other ices, and one-fourth rock".
CfA graduate student Zachory Berta, who first identified the planet, said: "Despite its hot temperature, this appears to be a waterworld. It is much smaller, cooler, and more Earthlike than any other known exoplanet."
The discovery was made as part of the ground-based MEarth Project, which uses "an array of eight identical 16-inch-diameter RC Optical Systems telescopes that monitor a pre-selected list of 2,000 red dwarf stars".
CfA elaborates: "Each telescope perches on a highly accurate Software Bisque Paramount and funnels light to an Apogee Alta U42 camera containing a charge-coupled device (CCD) chip, which many amateurs also use."
The 'scopes keep an eye out for dips in brightness where an exoplanet transits its host star. Whereas super-Earths (between five 5 and 10 Earth masses) transiting bright stars such as our Sun are impossible to spot from Earth, those like GJ1214b which transit a dim host are within the capability of ground-based technology.
In this case, GJ1214 is around one-fifth the size of the Sun with a luminosity "only three-thousandths as bright".
Having made their discovery, the CfA team then used the High Accuracy Radial Velocity Planet Searcher (HARPS) spectrograph at the European Southern Observatory "to measure the companion's mass and confirm it is a planet".
The exact nature of GJ1214b is unknown, but Berta suggested "some of the planet's water should be in the form of exotic materials like Ice VII", described as "a crystalline form of water that exists at pressures greater than 20,000 times Earth's sea-level atmosphere".
The CfA also has tantalising evidence of an atmosphere surrounding the planet, since when the team "compared the measured radius of GJ1214b to theoretical models, they found that the observed radius exceeds the model's prediction, even assuming a pure water planet".
This anomaly could be explained by an inhospitable atmosphere which is "gradually boiling off", although it will fall to space-based instruments such as the Hubble Space Telescope to determine the facts.
MEarth project head David Charbonneau concluded: "Since this planet is so close to Earth, Hubble should be able to detect the atmosphere and determine what it's made of. That will make it the first super-Earth with a confirmed atmosphere - even though that atmosphere probably won't be hospitable to life as we know it."
The CfA's findings are published in the 17 December issue of Nature. ®
Bootnote
The boiling point of water rises with pressure, so evidently GJ1214b has a surface pressure greater than 16 Bar, at which water boils at 200°C, according to this handy guide.