Japan falls for the iPhone
Far east fanbois
---
The iPhone continues to gain market share worldwide. No news there. What's interesting is the country where it achieved its highest rate of growth during 2009: Japan.
This news comes from the latest smartphone ad-tracking report from AdMob, the mobile ad-delivery service that recently walked down the aisle with Google after a brief flirtation with Apple.
Although AdMob's figures indicate general trends in the mobile marketplace, it's important to note that they are derived from data the company leaches from its ad-serving network and, in the company's own words, "does not represent the traditional view of market share based on the number of handsets sold."
That said, AdMob's monthly reports do give a general sense of what's what in the mobile world - especially in terms of smartphones.
And what the most recent report reveals is that the iPhone's greatest growth is coming in markets other than the United States, which is already highly iPhonified. The iPhone's market share in Japan, for example, has grown nearly 350 per cent during 2009.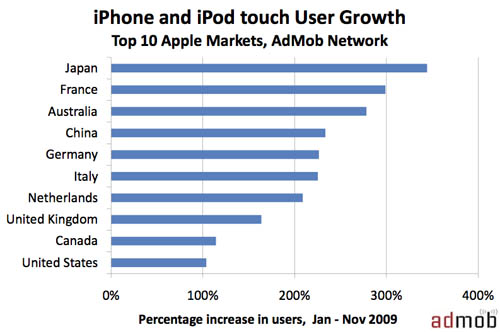 The iPhone is turning Japanese, we really think so, think so, think so, think so
When the iPhone was first introduced in Japan, the punditocracy predicted it would have a rough go of it, seeing as how the Japanese market was already flooded with highly capable smartphones. However, the iPhone passed all mobile-phone competition in July - although at that time we wondered whether the iPhone 3GS's introductory sales bump would be sustainable.
The recent figures from AdMob seem to indicate that it is - despite the fact that an August survey revealed that 49 per cent of potential Japanese smartphone customers said that "mobile phones are enough" when asked what kind of mobile device they preferred. Only 22 per cent of those polled wanted a smartphone, with the remainder prefering netbooks, notebooks, MIDs, or nothing at all.
Still and all, Japan currently represents only about 3 per cent of total iPhone and iPod touch users, according to AdMob. That's far behind the US, which 50 per cent of those users call home.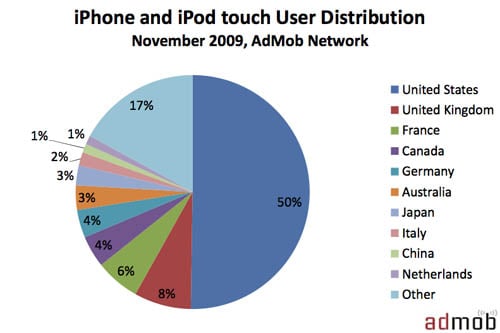 Today the US, tomorrow the world
The UK may house only 8 per cent of all iPhone and iPod touch users, but its percentage of smartphone users who have chosen the iPhone is higher than any other country that AdMob cites: a rousing 76 per cent, which dwarfs even the iPhone-crazy US, which lags behind at 55 per cent.
Nokia is still the smartphone manufacturer of choice by a wide margin in India, Indonesia, the Phillipines, and other countries that have not yet been seduced by the iPhone's siren song, but the Finnish phonemakers market share is sinking sharply worldwide.
As The Reg reported last month, Apple passed Nokia in March of this year - and it's not looking back. As of November, Nokia's smartphone market share as determined by AdMob's metrics had shrunk from a high of 62 per cent in September 2008 to a mere 18 per cent. Apple's worldwide share is now 54 per cent, crossing the 50 per cent threshold for the first time.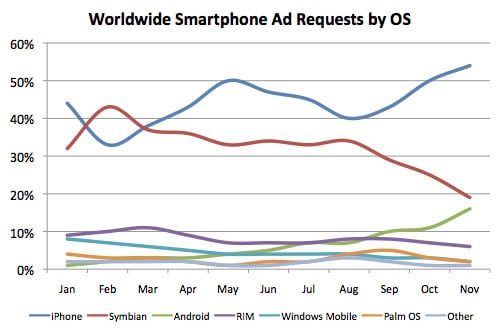 Tied to the Symbian OS, Nokia's share is slipping sharply
Android is making its move as well, closing in on Symbian's share of the smartphone OS market, 16 to 19 per cent. We're willing to bet an aging fruitcake that Android passes Symbian by the end of the holiday season.
Palm's Prē and Pixi are not fairing well at all, according to AdMob - their share sank by half from October to November, and now accounts for a mere 2 per cent of AdMob's ad requests.
You can download the full 20-page AdMob report here (PDF). ®