This article is more than 1 year old
Amazon Kindle International Edition
Lost in translation?
Review It was Amazon's Kindle that really turned the idea of an e-book reader into a true mass-market proposition. Well, in the States, at least, because the first Kindle was only ever available to US-based buyers. Now, however, you can get an "international version" of the Kindle 2 in Blighty. More accurately, you can buy it from Amazon in the US and have it shipped to you in the UK.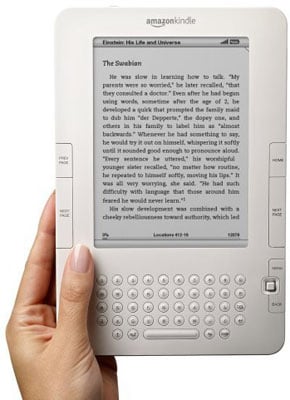 Amazon's Kindle: now over here
Look up the Kindle 2 on Amazon.com and you'll find a headline price of $259 and since that's about £155 in real money, you're probably thinking it's a bargain compared to the iRiver Story and Sony Reader Touch Edition, both priced on the wrong side of £200. But by the time you add shipping and import duty, the price of the Kindle is actually £207. Still cheaper than the competition, but not by as much.
Something else worth keeping in mind is that the International Kindle is not the latest version. In the US you can order the Kindle DX, which boasts a 9.7in screen in place of the standard edition's 6in panel.
Before we dive in to the hardware, let's deal with Amazon's Big Idea: buying and downloading content over the air. Buy a Kindle and you get 3G or GPRS access to Amazon's e-book store. There's no up-front charge - the cost is built into the price of the book - and it means you no longer need to download books to computer then copy them over to the reader.
In the US, Amazon's Whispernet network piggybacks on AT&T, but both the carrier and Amazon are keeping mum about who exactly is hauling the data in the UK. To avoid hitting Amazon with serious data roaming costs, the International Kindle lacks the web browser that US users get, nor do you get images in your newspapers, just plain text.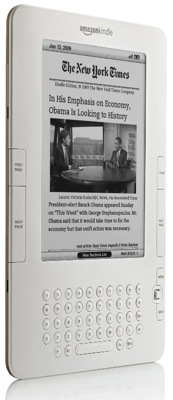 UK-based users can get newspapers on their Kindle too - but minus the pictures
Newspapers? Yes, with the Kindle you can subscribe to a selection of daily papers. Only four UK titles are available at the moment - The Independent, The Times, the Telegraph and the Daily Mail - each of which will set you back $23 (£14) per month. You can also subscribe to a selection of magazines, and though the list is heavily US-oriented it does include both The Spectator and The New Statesman.