This article is more than 1 year old
Amazon Kindle International Edition
Lost in translation?
To help us test the Kindle, Amazon kindly bunged Register Hardware $30 of credit which we promptly spent on the e-book of the complete Lord of the Rings, the download taking only a matter of moments over a 3G connection before magically appearing in our library.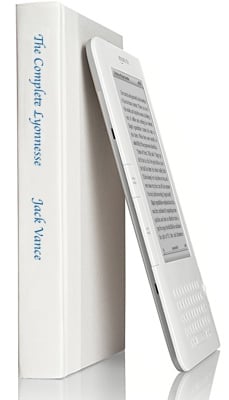 Better value than paper books?
The purchase set us back $20.29 (£12.50) which is exactly the same amount Waterstones wants for the paperback, though the RRP in £19.99. Waterstones is selling the ePub e-book for £14.71 in the UK. Anthony Beevor's Stalingrad can be picked up for $9.37 (£5.80) on the Kindle which is a bargain, while Robert Fisk's Age of the Warrior will set you back $13.79 (£8.50) - otherwise a £9.99 physical purchase in your local WH Smiths.
Since Amazon expects most Kindle users to buy content from, well, Amazon, the Kindle's primary e-book format is Amazon's own AZW, though it can also handle DRM-free Mobipocket files. If you ask us, an e-book reader that doesn't support ePub is a bit of a three-legged nag. Despite what Amazon may think, ePub is now the e-book standard with even Sony - never a company to relish the adoption of technologies it didn't invent - recently converting its entire DRM e-book library to the format.
The real advantage of any e-book reader is that you can head over the likes of Feedbooks and grab the entire output of Jane Austen, HG Wells, Dickens and Tolstoy, and not pay a penny. Thankfully, Feedbooks offers its content in Mobipocket format as well as ePub and PDF.
Speaking of PDF, after having run an over-the-air firmware update, our sample Kindle acquired the ability to show PDF files. However, the PDF update was only partially worthwhile. Yes, PDF files now show up in the device's library, but there's no zoom function so we're stuck with the basic full-page view. You can increase the text size by swapping the view from portrait to landscape but that really is no substitute for the ability to zoom and reflow.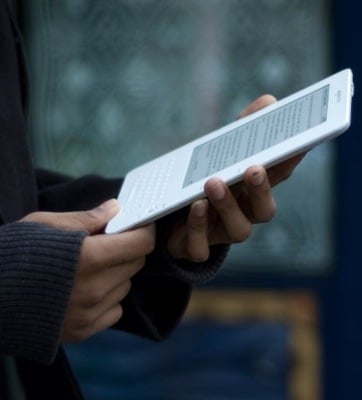 Not the best e-book reader for viewing PDF documents
Incidentally, when browsing Tolkien's epic we came across another problem: the maps could only be magnified to full page size which left them largely illegible.