Amazon Kindle International Edition
Lost in translation?
The only other file type the Kindle supports is plain text, but if you want to load Word or image files you can send them to a dedicated Kindle e-mail address that comes attached to your device and a few minutes later they appear on your Kindle's home page. It's all a bit of a palaver compared to just dragging and dropping content and, more to the point, will cost you $0.99 per megabyte, rounded up. If you want to dodge the cost, Amazon will send the converted files to your PC e-mail account for free.

Skinny size but with a near-infinite storage capacity thanks to Amazon's cloud
Like the Story, the Kindle comes with 2GB of storage, but unlike the iRiver device you don't get any way to increase this. That failing is ameliorated a little because your e-book purchases can be archived on Amazon's servers so you can delete content from your Kindle without losing it permanently. It's a nice idea, so long as Amazon's cloud never fades - and it doesn't unilaterally swipe content away at a later date as per the 1984 controversy.
Once loaded with content, the Kindle does the whole e-book reader thing rather well. The 600 x 800, 167 dpi, 16-shades-of-grey screen is commendably clear and crisp, and refreshes no more slowly or annoyingly than any other E Ink-based e-book reader does. The menu layout is largely straightforward, though labelling the section that holds bookmarks and notes as My Clippings is annoying for a reason we can't quite put our finger on.
The Kindle also has a text-to-speech function that works on both purchased and non-DRM content, but unless you fancy all your books read out in a dreadful American monotone – you can chose male or female - you are best advised to steer well clear of this facility. The mispronunciations on a single page of Lord of the Rings were hilarious, and the dark art of punctuation is also unknown to the system. So don't expect the Kindle to replace the audio book.
Physically, the only-in-white Kindle looks and feels much like the Story and, at 203 x 134.5 x 9mm and weighing 289g, it's near enough identical to the iRiver in size and weight too. That's no bad thing, because we rather like the Story. External ports are limited to a Micro USB port at the bottom, and a 3.5mm audio jack and power switch at the top. A couple of small speakers are tucked away around the back while a volume rocker is housed on the upper right hand side.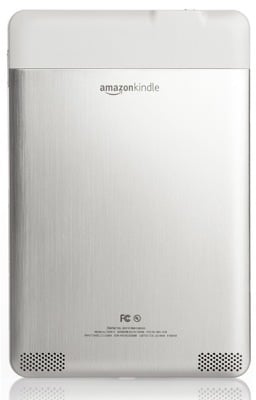 There are two speakers, but the Kindle's music and text-to-speech features are weak
The Kindle's physical controls have been generally well thought out. Next-page buttons are located on both sides of the device, though only the left-hand side has a previous-page button. The page-turn keys do feel slightly loose and cheap. The Story has the better keyboard, the keys on the Kindle being just a bit too pimply and small. The joystick on the lower right side is an e-reader navigation tool unique to the Kindle and, though it takes a little getting used to, it's a reasonable alternative to a touchscreen interface when it comes to highlighting or selecting text.