Amazon Kindle International Edition
Lost in translation?
In day-to-day use, the Kindle has most of the bases covered, so you can add multiple bookmarks to multiple books; view text in six sizes; look up words in the built-in American dictionary; and add notes to particular pages, passages or words where they are then indicated by superscript marks. Open a previously read book and the Kindle takes you directly to the last page you viewed. What you can't do though is create free-standing memos or notes for later viewing or export as you can with the Story.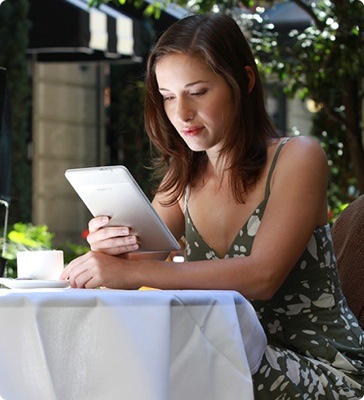 Download and read while you wait for your lunch
Audio file support is limited to MP3 and Audible, and the music player, such as it is, does nothing more than play MP3 files in the order they happen to be in the Kindle's music folder. There is no UI of any sort to manage music content but you can sync content via an MTP media player. Both the music player and text-to-voice feature are currently housed in the "Experimental" menu, which suggests they may be improved by future firmware updates.
Amazon reckon a fully charged Kindle can last a week with the wireless left on, or two weeks with it off. That's a change in reference from the usual 'number of page turns' most e-reader makers quote but in our experience the Kindle won't need to be charged any more frequently than the likes of the Sony Touch or iRiver Story since the wireless radio idles after a few minutes without use.
Being essentially a US product, the Kindle arrived up with a two-prong USB mains charger and no adaptor. Since none of the other e-book readers we have tested come with a power brick of any sort we can't really knock Amazon for not supplying a third prong.
Before we wrap up its worth mentioning that various bigwigs at Amazon have made mutterings about developing a more UK-centric Kindle offering, and maybe even launching the DX in the Sceptred Isle. And don't forget that at some point next year Sony may decide to launch its Reader Daily Edition in the UK. That has a 7in touch screen, a 3G wireless module and the ability to download ePub books over the the air.
Verdict
Assuming you plan on buying all your books from Amazon, won't miss a decent music player and don't have any ePub files you want to read, the Kindle should satisfy. The screen is good, it's easy to use and, file support aside, the features list is up with the best of the competition. The problem is that if you live outside the US, Amazon will happily take your money but treat you like a second-class citizen. And if you do buy your books from Amazon, you're stuck with its e-readers no matter what else comes along from the likes of Sony, iRiver or Samsung. ®
More E-book Reader Reviews...

iRiver
Story

Sony
PRS-600
Touch

Bookeen
Cybook
Opus

Sony
PRS-300
Pocket

Amazon Kindle International Edition
A competent e-book reader that lets you buy and download your books wirelessly. But you won't get the same level of service that US users get and format support is limited.
Price:
£207 (including shipping, VAT and import duty) RRP