Twitter hack linked to internal security breach
Cyber-reprisal for Iranian election support
---
Twitter's login credentials were used to make DNS changes that redirected surfers to a protest site last Friday, according to site admins.
Surfers visiting the micro-blogging website for about an hour early on Friday morning were instead redirected to a page on another site, boasting that Twitter had been pwned by a previously unknown group called the Iranian Cyber Army.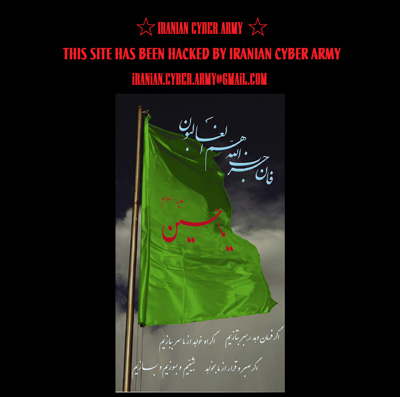 Hijacked in 140 characters or less
Twitter acknowledged its DNS records "were temporarily compromised" in a status page update, without going into the ins and out of the hack.
Last night, DNS settings for the Twitter web site were hijacked. From 9:46pm to 11pm PST, approximately 80 per cent of Traffic to Twitter.com was redirected to other web sites. We tweeted, blogged, and updated our status page last night.

During the attack, we were in direct contact with our DNS provider, Dynect. We worked closely to reset our DNS as quickly as possible. The motive for this attack appears to have been focused on defacing our site, not aimed at users—we don't believe any accounts were compromised.
However, security experts involved in maintaining the site said Twitter's own login credentials were used in the attack. Tom Daly, chief technology officer at Dyn told Wired that attackers used a "set of valid Twitter credentials" to change DNS setting and redirect surfers.
The previously unknown group who carried out the attack wrote a message criticising US "interference" in recent Iranian elections, republished by TechCrunch here.
Twitter became a notable outlet for dissent by Iranian protesters during the disputed elections earlier this year, a factor that may have led to its targeting by the presumably religiously conservative Iranian hacktivists (or government operatives) behind the attack.
®