Firefox 3.5 trundled passed Internet Explorer 7 in the past few days to become, temporarily at least, the world's most popular web browser.
According to analysis outfit StatCounter, Mozilla's latest browser just slipped ahead of Microsoft's surfing tool in the week commencing 7 December by grabbing 21.93 per cent of the global market.
But it's of course worth noting that while Firefox might be top dog by version number, it's important to point out that Microsoft's Internet Explorer 8 is also pulling in plenty of punters.
So when all the stats are combined Microsoft's browser remains the clear winner with a 55.44 per cent share, of which IE 8 holds 20.33 per cent of the market and IE 7 controls 21.2 per cent.
Redmond's unloved IE 6, meanwhile, retains 13.89 per cent of the market, at the last count.
However, Mozilla's climb in the browser wars continues to be significant. It now lays claim to 32.12 per cent of the market as of last week, with Firefox 3.0 securing 9.01 per cent of loyal surfers, and some users are still browsing on Firefox 2.0 and older versions.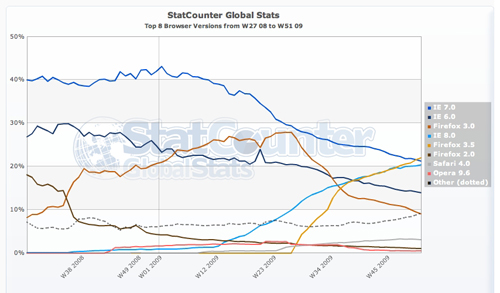 Firefox 3.5 nudges past Internet Explorer 7
Ultimately it's business as usual for Microsoft, even though its browser market share has taken a noteworthy slip now the decade is nearly out.
Importantly, Google's Chrome browser has also been doing a stellar turn since Mountain View - finally - pumped out a beta version for Mac fans.
Chrome is now the third most popular browser, according to StatCounter, after it went ahead of Apple's Safari last week.
That climb could, in weeks to come, be interpreted as a spike following Google's press and ad campaign to get users to download Chrome. But this being Google, we're sure it'll continue to sink its teeth into Microsoft's browser heartland.
However, we have to take all these stats with a pinch of salt, especially as even the web analysts differ greatly in terms of which browser maker has what share of the market.
Net Applications, for example, said last month that all versions of Internet Explorer held 63.62 per cent of the market in November, while Firefox reeled in a total of 24.72 per cent.
Of course, optimists might be hoping that the European Commission's announcement last week that it had ditched some of its antitrust action against Microsoft - after the software giant agreed to offer Windows customers a choice of web browsers via its operating system - could blow the market wide open.
One thing is for certain, the battle to be the world's most popular browser will continue unabated into the next decade. Whether Internet Explorer can retain its lion's share remains to be seen, however. ®
Similar topics