There's no shortage of folk looking to exploit the web topic du jour. In June, as Iran teetered on the brink of revolution, UK furniture retailer Habitat started Tweeting houseware ads tagged with words like "Iran" and "Mousavi." Just this week, Black Hat SEOs leapt at the chance to push scareware sites onto the wave of searches looking for instant info on the sudden death of actress Brittany Murphy.
And now, a Twitter-happy real-time search outfit hopes to turn this sort of thing into a legitimate business.
Today, One Riot introduced what it calls "trending ads" - "a stream of ads that are related to trending topics as they emerge across the social web." In essence, when a particularly popular topic hits the net, the system will automatically build ads that marry this topic du jour with content on your very own website. Speaking with The Reg, One Riot GM Tobias Peggs used the Britney Murphy example.
"As an advertiser, you have no way of knowing that the everyone is going to be searching for Brittany Murphy. You can't build ads ahead of time," he says. "We index your site and then build the ads for you."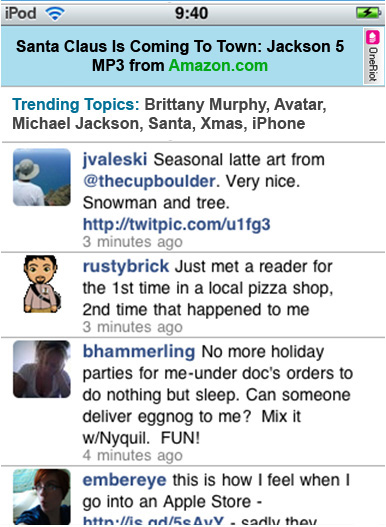 One Riot 'Trending ad' on an iPod touch
These ads may appear on OneRiot's own real-time search engine, which serves up recently-posted content from Twitter and other sources while ranking it according to ostensible relevancy (see above, as viewed on an iPod touch). Or they may be syndicated to partner sites, such as Digsby, a service for juggling IM and email alongside your so-called social networking feeds.
The ads are streamed to partners as an API feed, which means partners have free rein to display them as they see fit. The ads might appear as separate banners. Or they might appear in the middle of a user's "real-time stream" - as occurs on Digsby.
But One Riot says it won't let things get out of hand. "OneRiot will work closely with developers to ensure that initial implementations work well for users, for advertisers, the developer and us," the company tells us. "Naturally, that will create best-practice guidelines that we'll put in place as we roll this out aggressively in the New Year." ®