Samsung's upcoming 14.6Mp NX10 "hybrid" digital SLR has made an unscheduled appearance on the web.
Why 'hybrid'? Because it's smaller than a regular DSLR but has a DSLR-size sensor. It's not as small as a Micro Four-Thirds job, though. Speaking of MFT, Samsung's hybrids use the same 'skip the single-lens reflex' approach, hence the sub-DLSR size.
Anyway, here it is, courtesy of a DPReview forum poster: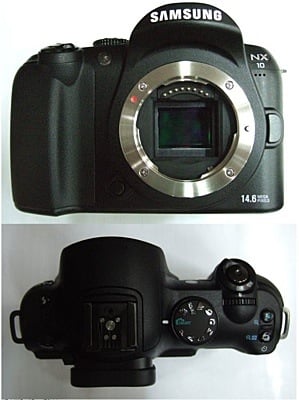 Source: DPReview
Unlike MFT, hybrid lenses are unique to one vendor, so if Samsung doesn't offer the lens you want, tough luck.
There's no word yet on when the NX10 will make it onto shop shelves. ®