German strato-sperm airship prototype flies
Robot tadpole zeppelins aim for the wind bucket
---
A 111-foot unmanned, sperm-like airship prototype - which uses long-forgotten tech from the 1930s golden age of the zeppelin - has completed initial flight testing, according to its makers.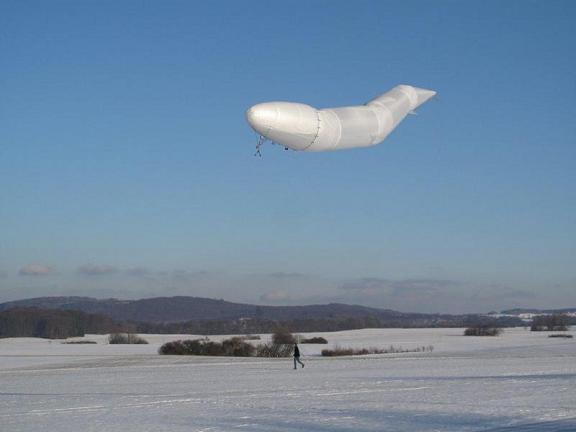 Cutting-edge German wriggleblimp technology in action.
Sanswire-TAO, a partnership between Sanswire of Florida and TAO Technologies GmbH of Stuttgart, intends to develop so-called "stratellite" droid dirigibles able to hover for long periods in the relatively calm "wind bucket" found between 65,000 and 70,000 feet up. This avoidance of the usually punishing stratospheric winds would allow much less fuel to be burned while maintaining position. The resulting long endurance and large area beneath covered by line-of-sight would allow the robot strato-ships to compete with satellites as communications relay platforms - hence the "stratellite" tag.
The STS-111 model whose initial tests were announced by Sanswire-TAO yesterday is an intermediate step towards the eventual stratocraft, intended for use at lower altitudes as a military surveillance platform. Flight tests had been predicted for the summer, but in the event none were carried out until this month.
The unique tadpole-esque appearance of the TAO airships comes from their "segmented" design, said to allow them to flex with wind gusts and so avoid the control and structural issues which can plague more conventional lighter-than-air craft.
Apart from segmentation, the other main trick offered by TAO is the "unique weightless Fuelgas system", though in fact it is far from unique. The same technology was employed successfully aboard the famous Graf Zeppelin airship liner of the 1930s, which ran on a similar gaseous fuel called Blaugas.
"Fuelgas" or the zeppelin's Blaugas are simply gas fuels mixed to have the same density as air, stored in cells within the ship's hull instead of hydrogen or helium lift gas. The old Graf filled up to a quarter of her hull with Blaugas; in the STS-111 only the "head" segment holds helium, the tail is full of fuel. As the fuel weighs the same as the surrounding air, its buoyancy supports its own weight - it is effectively weightless. As it is burned in the ship's engines, its disappearance doesn't make the ship lighter as would be the case with normal liquid fuel.
This is good news, as it means that the ship needn't vent off lifting gas to maintain neutral buoyancy as a flight goes on. This meant that the Graf Zeppelin didn't need to top up with hydrogen at poorly-equipped airfields, and will mean that TAO's tadpolecraft don't require frequent replenishments of expensive helium.
"We are convinced that the segmented design of the STS-111 and its long-endurance fuel gas powered propulsion system addresses unique security needs that require extended-duration station-keeping," enthused Sanswire CEO Captain David Christian in a statement issued yesterday.
"The commercial STS-111 is designed to stay aloft for more than two days, which gives it a definitive advantage over currently deployed, expensive, fixed-wing drones in intelligence and surveillance missions."
That may all be so: but it would seem that Sanswire-TAO have been beaten to the punch. Plans for a much bigger, "optionally manned" spy-ship of different design are already well advanced.
Sanswire aims to hold a public demo of the STS-111 at Florida's Orlando Sanford International Airport in "early 2010". ®