Fig. 2: Apple apparel: for cultists by cultists
Apple is another prolific patent filer with a good share of duds. (In Apple's case, we define 'dud' as a product that sounds absolutely ridiculous - even though we know it could still sell a million of them if it wanted to.) The company, however, doesn't share IBM's troubles with boredom. Sheer terror takes care of that.
Judging by the patent applications published this year, we'd say Apple is scheming to expand its clothing sundries to more than just iPod socks.
Back in January, the USPTO published Apple's patent for a special "glove system" made especially for caressing and fiddling with touchscreen devices.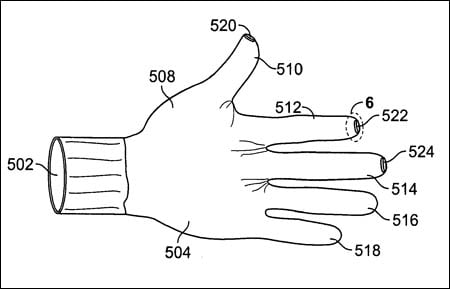 Yes, but can you use it to play Rad Racer?
The application states that "when users, in cold weather, wear thick or bulky gloves…the loss of tactile feedback to the user may prevent the user from properly operating the electronic device, and may lead to frustration."
Frustrating indeed. But then why - pray tell - can't the user simply remove the offending gloves for a moment? Aha! Apple has foreseen this attempted solution. You see, by performing such an impertinent action, "the user's hand may become cold and uncomfortable, which may also lead to user frustration."
Terrible, terrible frustration appears to have the glove-wearing individual cornered! Help us Steviwan Joboni, you're our only hope!
Apple's solution is a two-layer glove "system" that has both an outer insulating layer and an internal conductive layer. (Which actually sounds like a good way to replicate dark Jedi-force lightning with a bit of a static charge.) The glove's fingertips also sport "apertures" (read: holes) that allow fingers to get some tactile stroking done with a touch-screen device while remaining protected from Ma Nature's wrath.
Below the belt, Apple envisions giving the all-important shoe a touch of Cupertino magic as well. Shoes are wonderful things, Apple vigilantly explains in a patent filing published this December. In fact, judging by the application, it seems someone has a bit of shoe fetish:
Shoes (including sneakers or boots, for example) provide comfort and protection for feet. More importantly, shoes provide physical support for feet to reduce risk of foot injuries. A shoe is often necessary to provide support during intense physical activity, such as running, soccer and American football. As a shoe wears, physical support provided by the shoe decreases, thereby reducing associated protection from injury. When a critical wear level is reached, even if the shoe looks like it is not particularly worn, the shoe may not provide adequate support and may, in fact, cause damage to feet.
OK, OK, shoes are terrific already. But each holds a dark and terrible secret: they wear out after long periods of use! And there's no way of knowing when they do, short of tilting your head down 60 degrees and waiting patently for light rays to bounce off your footsies, travel through the eye, and ultimately focus on the retina. This entire process can take up to seconds away from your busy schedule.
But not if Apple's "Shoe Wear-Out Sensor, Body-Bar Sensing System, Unitless Activity Assessment and Associated Methods" patent application makes the cut at the USPTO. "In one embodiment," the filing reads, "a shoe wear out sensor includes at least one detector for sensing a physical metric that changes as the shoe wears out, a processor configured to process the physical metric, over time, to determine if the shoe is worn out, and an alarm for informing the user of the shoe when the sole is worn out."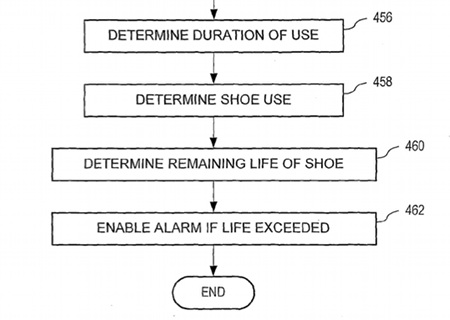 What if one shoe wears out before the other?
Because if you're wearing worn-out shoes, you definitely want an alarm calling attention to it. Now if only there were a way to let you know when there's a booger dangling from your nose…
Sponsored: Ransomware has gone nuclear