Review Remember those rugged plastic 'singalong' cassette players you could buy for pre-school children? The Aiptek MobileCinema D10 looks a projector version of the same kind of thing. Encased in tough, nursery-blue plastic, it is the least fragile projector we have ever tested, and the only one that required absolutely no warmup or setup whatsoever.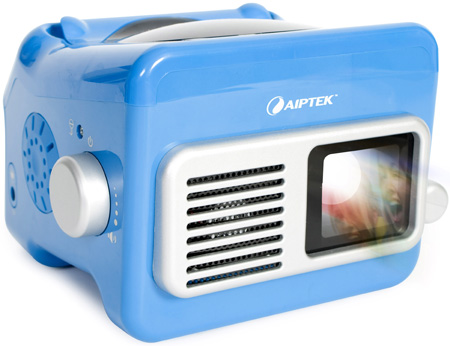 Cute or hideous? Aiptek's MobileCinema
However, the MobileCinema D10 is not a home cinema as you might understand it. If you are looking for a quality image and surround sound, keep looking. This product is a toy, an amusing gadget, a £160 spent for a bit of a laugh.
The 222 x 150 x 192mm unit comprises a low-resolution TFT LCD projector and built-in DVD player with stereo speakers with a few chunky controls designed for clumsy hands. You do not have to plug it in to a computer – in fact, you can't – and apart from the need for main power, it is entirely self-contained. Just pop in a DVD, point the unit at a white wall and watch the show.
The lens is encased behind a square window at the front, alongside the fan vent, protecting it from harm. Focus is adjusted using an unfeasibly large lever on the side. There is no zoom function: simply move the projector physically nearer to or further away from the wall in order to change the projection size.
On the opposite side of the case, a large dial knob adjusts the audio volume and allows you to switch the unit on or off. Incidentally, there is no cool-down wait after turning the projector off: the MobileCinema D10 uses an LED-based lamp that barely gets warm, let alone hot.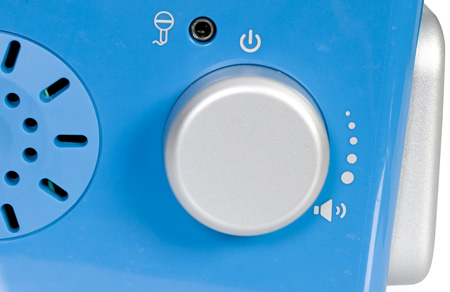 Turn the dial to switch on and adjust the audio volume
You can pick up the device and move it around while watching a film without any risk of burning your fingers, hence the lack of a carry handle. Even so, the projector makes conventional use of a fan to remove heat, and this fan is quite noisy and distracting in a living room.