NASA's Spirit Mars rover today passes its sixth anniversary on the Red Planet, albeit bogged down in sandy soil which looks likely to be its final resting place.
Spirit arrived on Mars at 8:35 pm PST on 3 January, 2004 (04:35 GMT on 4 January), followed by its twin Opportunity on 24 January. The pair were intitially expected to last three months, but have proved they have the Right Stuff by surviving "six Earth years, or 3.2 Mars years", as NASA puts it.
However, Spirit got stuck in a sand trap dubbed "Troy" in Mars's southern hemisphere back in April. Having already suffered a right-front wheel failure in 2006, its right-rear wheel then succumbed to intermittent failure. NASA explains: "Drives with four or five operating wheels have produced little progress toward escaping the sand trap. The latest attempts resulted in the rover sinking deeper in the soil." (see pic*)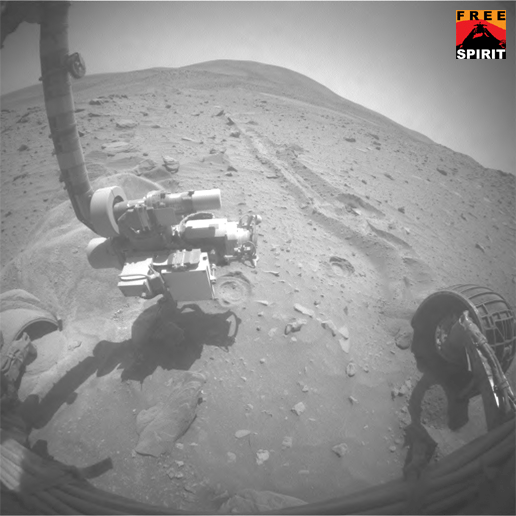 The agency is still hoping to extract Spirit, but if that's not possible, it will attempt to "improve the rover's tilt, while Spirit is able to generate enough electricity to turn its wheels".
Unless Sprit can angle its solar arrays to capture the maximum possible sunlight, it faces the prospect of freezing to death when winter arrives in five months, since it won't be able to power the internal heaters which protect its electronics. NASA explains that the current tilt is "nearly five degrees toward the south", which is "unfavorable because the winter sun crosses low in the northern sky".
Accumulated dust on the arrays may also speed the rover's demise. Jennifer Herman, a rover power engineer at NASA's Jet Propulsion Laboratory in Pasadena, said: "At the current rate of dust accumulation, solar arrays at zero tilt would provide barely enough energy to run the survival heaters through the Mars winter solstice."
NASA glumly admits: "Unless the tilt can be improved or luck with winds affects the gradual buildup of dust on the solar panels, the amount of sunshine available will continue to decline until May 2010. During May, or perhaps earlier, Spirit may not have enough power to remain in operation."
However, the rover team is hoping that Spirit's mission is not yet done and dusted. Ray Arvidson of Washington University, deputy principal investigator for the rovers, offered: "Spirit could continue significant research right where it is. We can study the interior of Mars, monitor the weather and continue examining the interesting deposits uncovered by Spirit's wheels."
NASA concludes: "A study of the planet's interior would use radio transmissions to measure wobble of the planet's axis of rotation, which is not feasible with a mobile rover. That experiment and others might provide more and different findings from a mission that has already far exceeded expectations." ®
Boonote
* NASA's caption explains: "Spirit attempted to turn all six wheels on Sol 2126 (Saturday, Dec. 26, 2009) to extricate itself from the sand trap known as "Troy," but stopped earlier than expected because of excessive sinkage. Telemetry indicates that the rover moved forward 3 millimeters (0.12 inch), left 2 millimeters (0.08 inch) and down (sinkage) 6 millimeters (0.24 inch). The right-front and right-rear wheels did not move."
Similar topics