This article is more than 1 year old
Google uncloaks the Nexus One
Googlestore sells Googlephone
Updated Google has surprised no one by unveiling the Google-branded and Google-sold Nexus One phone at a press event in Mountain View.
Manufactured by Taiwanese manufacturer HTC, the phone will be sold through an online store operated by Google at www.google.com/phone. The phone can be purchased unlocked for $529 or in tandem with wireless service from T-Mobile USA at prices beginning at $179.
The device can be used with "nearly all" GSM-based networks, including AT&T's, and it supports 3G bands 1, 4, and 8. This means that it cannot be used with AT&T's 3G network. AT&T users will be limited to the company's 2.5G Edge network. But it works with most major GSM carriers worldwide.
The new online store is open to US customers, and Google says it will also ship to the UK, Singapore, and Hong Kong. It may ship to other countries in the future.
During its press event - broadcast via the web - Google confirmed that it is the seller of record for the Nexus One. Android project lead Andy Rubin said "it would be incorrect" to say Google designed the phone on its own, saying the HTC played an "important" role. Google also said that Verizon and Vodafone will join this new online store in the coming year. Verizon Wireless, the largest wireless operator in the US, is backed in part by Vodafone.
The Nexus One will be modified to run on Verizon's CDMA network, and this CDMA version of the phone will be sold through Google's online story together with Verizon service. The GSM Nexus One will be sold in tandem with Vodafone service.
The company says the Nexus One was designed in close partnership with HTC. The Google brand is prominently displayed on the back of the phone, and the HTC is in small letters below it.
According to Rubin, Google will make money from the sale of the phone, but he said the company's main aim is to promote web use and feed its online advertising business.
"To help Android adapt to the needs of consumers, we apply our engineer resources with select projects with partners. In this way, we have accelerated the progress of innovation," Google's Mario Queiroz said. "A long time ago, we asked ourselves the questions: What if we worked even more closely with partners?"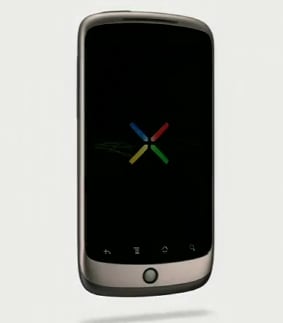 Google Nexus One
As countless press reports indicated, Google's new phone is indeed named with a nod to Philip K. Dick's Do Androids Dream of Electric Sheep? Queiroz referred to the device as a "superphone."
"It belongs to an emerging category of phones we call the superphone," he said.
Measuring 11.5mm thick and weighing 130 grams, the new phone includes a 3.7-inch AMOLED display, a 1GHz Qualcomm Snapdragon processor, a 5 megapixel camera that takes video, and a trackball that lights up when you receive an email or phone call. It is the first Android phone to include noise cancellation, and it includes a voice-enabled keyboard.
The phone is based on Android version 2.1. Google says it will open source this new version of its mobile stack soon. ®
Updated: This story has been updated with ongoing information from Google's press conference, and it was later updated to clarify the version of Android that runs on the Nexus One and clarify the device's wireless support.