This article is more than 1 year old
Mintpass Mintpad
Small screen stick notes, anyone?
Review Do you really need an electronic notepad and portable media player, but have tiny pockets in all your clothes? If so, the Mintpad could be the answer. This compact device majors on its touchscreen notepad, but also has multimedia features and Wi-Fi Internet connectivity, in a player less than 80 x 65mm.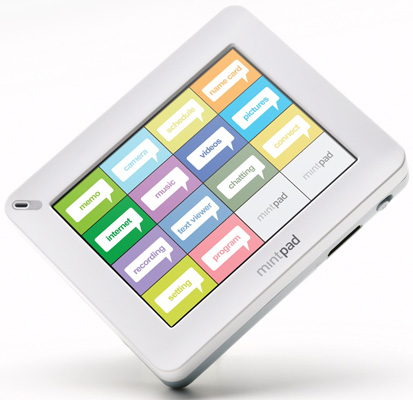 Small wonder: the Mintpass Mintpad
Some media players lead on their video playback, some on their audio prowess, but few, as yet, shout about their note-taking abilities. Mintpass, a South Korean company that gets its gear made by iRiver, has put together a little player called the Mintpad which does just this, though it also includes audio and video playback, a camera, stereo audio recording and wireless Internet access.
The Mintpad is small, with just a 2.86in LCD touchscreen as its display and main input. Around the edges there are power and status buttons and a hold switch to lock the display, plus a 3.5mm headphone socket a USB connector and a slot for the stylus.
The 320 x 240 screen is bright and clear and the touchscreen is sensitive and easy-to-use. It supports simple gestures, mainly the flick, with other controls from on-screen buttons. Flicking up and down switches between functions, which include Chatting – more correctly messaging – Schedule, Name card for contact details, Text viewer and Recording, as well as the more obvious Video, Audio and Memo.
The Memo function is better implemented than we've seen on other PMPs. Memo is a bit of a misnomer, though, as each screen is a small canvas for handwritten notes. The smooth working of the stylus and full anti-aliasing of each keystroke is a big bonus here, as even fairly scrappy handwriting remains readable.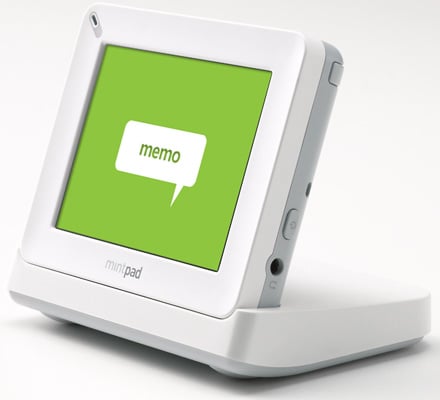 The Mintpad makes a stand with this optional extra
The function is much more like a Post-It note than a true memo, as there are no facilities for handwriting recognition and no way to add printed text to a memo, but as a quick aid for taking down brief notes, it works well. While we hesitate to call it an e-Reader, it can display .txt files and the text is bookmarkable too.