If you always wanted to own your own server company and compete against the tier one players who will want to crush you like a mosquito feasting on a tiny drop of their blood, here's your chance. Ex-server maker Verari Systems, which had a layoff and restructuring on December 11 is selling off its assets in an auction.
If you go to the company's Web site, you are greeted by this splash screen: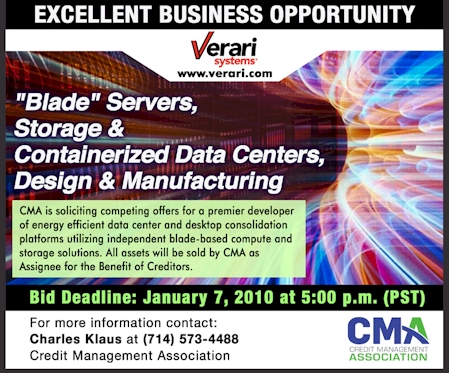 So, you have until 5 PM Thursday to make your bid for Verari's assets, which will be used to pay off Verari's creditors. Being a privately held company, it is unknown exactly what state Verari's books were in when it announced its "restructuring" on December 11 and what its assets might be worth considering that IBM, Dell, and Hewlett-Packard all do containerized data centers and energy-efficient blade servers these days.
Verari did have the smart idea of treating the server rack as a single chassis and using commodity components to build vertical blades as well as very efficient power distribution and server cooling, so that might be worth something. As might be the existing customer base and whatever intellectual property, the company has racked up for power and cooling.
What El Reg has learned since talking to Verari on December 15 and getting something of a statement from the company about its restructuring is that - according to one former Verari employee at least - the situation at the company was much more dire than the IT press was led to believe. Here's the letter that employees got on December 11, as forwarded to us by a former Verari employee who wanted to set the record straight:
This morning on the All Employee Conference Call, David Wright, David Driggers, and Jerry Loe announced the closure of Verari and explained that today, Dec. 11, 2009, is the termination date for all employees. They also explained that status updates to former employees would continue and that former employees would receive updated information related to the status of medical benefits, pay, PTO and any other employment related issues. We expect that communication no later than next Monday, December 14.

We are awaiting final confirmation from the Medical Broker before that message can be issued. It is impossible to respond to your individual email questions and inquiries. Instead, we will respond to your questions and provide status updates in email messages. This email is the first of these communications. Remember all employees are terminated effective today. This includes me. However, Terri Martinez and I both anticipate working on your behalf (with no pay) thru the end of February to assist with medical and unemployment questions.

The following provides information and answers to some of the individual questions submitted thus far:

1. Unemployment: It is important that each employee file for unemployment with the state they reside. California and other states provide on-line access to file for unemployment. The California on-line link to file for unemployment is www.edd.ca.gov

IMPORTANT for CA employees: The work share program for California employees is NO LONGER in effect. All California employees must now go online and apply for unemployment. There should not be a delay in unemployment payments since the work share program already has employee information in the state system. Employees that were 100% furloughed as of November 30, can use December 1 as their last date of employment when the file applications.

2. Flexible Spending Accounts: The account will no longer be funded and it is VERY unlikely further reimbursements can be processed from the fund.

3. What happens to the money in Health Savings Accounts (HSA): The money in the HSA accounts belongs to the individual employees holding each account. No one other than the account holder can access that money.

5. Medical Benefits and 401K: A meeting and conference call has been scheduled for Tuesday, December 15, 10 am PST, to provide information about medical benefits and 401k plans. Employees will be contacted about where to attend the "live" meeting or how to dial in via conference call.

6. Pay: All employees that have worked during this pay period will be paid through today, December 11, 2009. What you will be paid is dependent on your Furlough Status during the previous two weeks. Some worked no hours, some approximately 50% and some remained full time. This also has a bearing on Holiday pay, if any. There is no money to pay out accrued PTO. No one will see these dollars in their final paychecks.

Again, this is the first information update. Another email will go out on Monday providing further information.

Thank you for your patience and understanding during this difficult time.
The source would not confirm who signed the letter from Verari to employees. And it is not clear if item 4 on the list in the letter was deleted by our source, or the author simply mis-numbered the items.
Dan Gatti - the senior vice president of marketing at Verari, who confirmed that the company restructured and who was adamant that Verari had not shut down - said that the company's remaining employees were working on the restructuring plan and would have something together in a few weeks. This includes Gatti himself and David Wright, who was named chief executive officer in June 2006 and who became chairman in June 2007 when the company got its third round of venture capital funding.
Selling off the assets of the company was obviously one option, which he never confirmed or denied. Appro International and Silicon Graphics, which which have an HPC bent, seem like reasonable options if they have the cash; Appro lacks containerized data centers, which Verari has. Dell or maybe even Super Micro might be interested, too, for the Verari-style of rack blades. ®