This article is more than 1 year old
Toshiba unwraps Cell TV
On the fly, 2D to 3D conversion anyone?
CES 2010 Toshiba today heralded its Cell TV - the first telly to be powered by a processor cut from the same cloth as the chip in the PlayStation 3 - as "the future of TV". Alas, that future's too far off for the company to provide practical details like pricing. The company did indicate, however, that when Cell TV does arrive, it'll be a premium product.
Quoting figures showing that, recession notwithstanding, punters paid more for the biggest screens than they did in 2008 - the prices of smaller sets plunged - Scott Ramirez, Toshiba America Consumer Products marketing chief tacitly indicated that top-end tellies like Cell TV won't come cheap.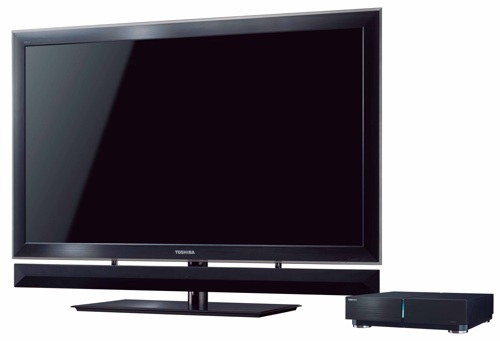 Toshiba's Cell TV: will not be cheap
Whatever the price, buyers will get a choice of two models: the flagship 55in and 65in ZX900, and a lesser alternative starting at 46in. Focusing on the former, Toshiba said it will contain a 3.2GHz Cell chip with eight cores, all used to render standard definition content in HD with some very smart pixel generation that yields an image virtually indistinguishable from genuine 1080p material, Toshiba claimed.
The same tech will be used to remove compression artefacts from online-sourced content before it to is upscaled.
Cell can also take any 2D content and convert it on the fly to stereoscopic 3D, for which you'll need a pair of active-shutter specs.
The ZX900 will, of course, be LED-backlit - with a whopping 512 separate backlight zones allowing the illumination to be varied according to what's on screen. Today's top-end LED TVs typically have around 96 backlight zones.
The screen will also adjust the picture's colour temperature to compensation for each environment it's placed in, using a sensor to measure light and colour levels around it.
The upshot is a display with an effective contrast ratio of 9,000,000:1 and a brightness of 1000cd/m². The backlight is used to double the telly's interpolated frame rate of 240 frames per second to an effective 480 - or 240 per eye if you're viewing a 3D image.
The superlatives don't stop there. The ZX900 will have a 1TB hard drive build into the set's separate control box. Panel and box are linked with Wireless HD technology - and the set has 802.11n for streaming to other parts of the house. It's a DLNA server too, and a DVD player as well. The screen has a built in sound bar.
Toshiba said the Cell TV will go on sale in the States later this year. Depending on when that takes place exactly, Europeans with big living rooms may not get their hands on it until 2011. ®