Copia is a new platform designed to facilitate collaborative reading, creating the kind of experience the Kindle promised but still hasn't delivered.
Copia comes from DMC Worldwide, an investment body that owns several consumer brands, and was announced today at the Consumer Electronics Show taking place in Las Vegas, though the platform is more than just consumer electronics. The intention is to provide an infrastructure allowing readers to share recommendations, bookmarks and even margin notes with other readers, backed up with a range of eReaders that have Copia integrated into the experience.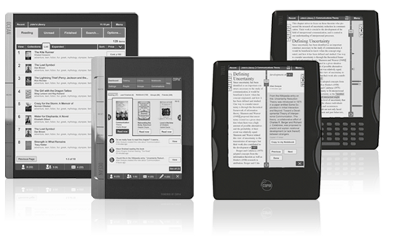 Whatever your taste in reading, Copia has a device for you
But DMC clearly has aspirations beyond selling eReaders. The Copia platform is open and the demonstration video promises versions for the iPhone and Blackberry devices at least: no doubt other eReader manufacturers will be encouraged to port a Copia client to their own, connected, devices.
Amazon's Kindle demonstrated that it was possible to integrate connectivity into an eReader, though so far the company has made little use of that beyond delivering books and subscribed magazines - impressive, but only scratching the surface of what a connected eReader ought to be able to do.
Whether readers really want someone else's margin notes in a book is another question entirely, but one can see value for groups of students and possibly some of the more active book groups - and Copia supports the creation of such groups as well as integration with the more-popular social networks including Facebook and Twitter.
It's even possible to imagine businesses using it to pass documents around for comment, if Copia can provide a convincing security model. Automated synchronisation (over 3G or Wi-Fi depending on the connectivity available) could provide live access to a document under discussion, in a manner akin to Google Wave's collaborative environment.
That's all some way off: the platform won't be in public beta until March, with the integrated hardware not on the shelves until April. But if Copia achieves any kind of success we might have to get used to the idea of reading as a communal experience rather than a solo activity. ®