Most people would shudder at the thought of putting their mobile phones in the dishwasher. This is precisely what Seal Shield invites you to do with its new SEAL CELL handset. Or put it in the sink for a regular clean up.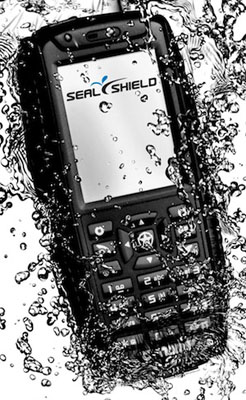 Seal Shield's phone: stick it in the dishwasher
The phone is water resistant (and not waterproof as we wrote carelessly earlier) and coated with an antimicrobial glaze to reduce mould, mildew and odour build-up. It looks destined mostly for hospital use: Seal Shield specialises in washable IT equipment for the healthcare sector. The company says it devised the phone to help reduce the risk of worldwide cross contaminations, including H1N1, Norovirus and MRSA.
It cites with some relish a Dr Charles Gerba of University of Arizona, who tested numerous common surfaces and found "cell phones are the highest carrier of bacteria with 25,000 germs per square inch, or 500 times more bacteria than the average toilet".
But is there any consumer appetite for washable handsets? Seal Shield's decision to launch at this year's CES suggests it thinks so. The spec suggests that it will appeal more to germ haters than phone lovers, alas.
SEAL CELL is more like Sonim's XP3 Enduro – reviewed here - than a smartphone, though. The washable handset doesn't support 3G or have its own app store. However, it can cope with two SIM cards and connect over quad-band GSM and Bluetooth.
The phone's torch light is presumably for finding stray forks down the back of the dishwasher and the 2Mp camera can be used to prove that you actually did stick the machine on after lunch. ®
Sponsored: Ransomware has gone nuclear