You and what Android? The Google iPhone killer that isn't
The Mountain View hippies just ain't hard enough
---
Comment So is it the Google phone or not? In the Nexus One, Google has produced something rather like an iPhone, something that in some senses may seem better than an iPhone, but something that in hardware terms is an iteration rather than a game-changer. But does Google, the company that wasn't going to do hardware, now do hardware? That's one of the more interesting aspects of the rollout.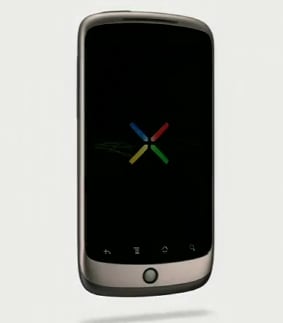 Google's VP of engineering for Android, Andy Rubin, was denying that Google was building hardware last autumn, and was denying it again - or still - at the Nexus One launch yesterday. How he denied it, in an interview with gigaom, is worth noting. "Google isn't building hardware… We are not designers and there are no hardware or industrial designers on my team." And, he told the audience at the launch, "I'm very precise when I talk. I said Google will not build hardware… We are internet and software guys and we know how to do that quite well and I think we've contributed back to the ecosystem."
For someone who's being claimed in some circles to be doing hardware, that's pretty categorical. He's not running any hardware or industrial designers, and Google will not build hardware. If it were Google's intention to be building more hardware, then would not Rubin be trying to claw his way out of this hole, rather than tunneling harder? We could also quote the Nexus One terms of sale here (notice it's effective from 17 November?): "You agree that Google is not the manufacturer, but the seller, of the Device. You acknowledge that HTC is the manufacturer of the Device and provides the Limited Warranty for repairs and service of the Device."
The killer product versus the ecosphere
Whatever, I've no intention of either agreeing with Michael "the Googlephone is real!" Arrington (who's probably got away with this one whatever anybody says), or with those who point out - with some justification - that it's really just another, better, Android handset with an impressive amount of Apple-style prelaunch hype and wishful thinking. Doing hardware is not necessarily an either/or, and Google is quite likely somewhere in the middle, in a somewhat conflicted position.
Google's ability to influence the design of Nexus One was somewhat greater than was the case with previous Android handsets, because it commissioned it directly from HTC rather than working through a third party network or manufacturer. But as Rubin says, the designers work for HTC; in principle, Google hasn't done anything that another company couldn't do with an HTC contract and Android 2.1. Nexus One is at this precise moment somewhat unique (but not hugely), but assuming Google isn't going to burn off its Android partners permanently (not this year, anyway), it won't be unique for that long.
Compare and contrast with Apple and the iPhone. Apple exerts a positively psychopathic level of control over its products, and in Steve's second coming its quest for stand-out perfection has been massively successful. And Apple does not care whether or not you agree with its vision of perfection - it thinks you'll buy the gear anyway, and so far, this time around, it's been right. Apple focuses absolutely on the device to be launched, and incidentally locks down the company tighter than North Korea while it's doing so, as opposed to handing the damn thing out to all the staff the month before the rollout.
Note to Eric: the consumer electronics business is not kind to hippies.
'Hey, the phone's no big deal'
Andy Rubin clearly doesn't go for the Apple approach: "People shouldn't focus too much on the device. What's more important is the strategy behind the devices." Oh no Andy, not if you're in the consumer hardware business. Sure you have a strategy that underpins it all, but if you don't focus on the device, you'll get into all sorts of trouble. Even if your main competitor isn't a maniac.
Now compare and, er, compare with Microsoft. In pretty much red-lining building hardware for Google, Rubin is getting the company into the kind of position that Microsoft has repeatedly found itself in - and not just with Windows Mobile. Microsoft has specified hardware and produced design guidelines for hardware manufacturers over the years, but has never gone the whole way, the rationale being that building a whole PC (or less happily, Windows Mobile) ecosystem with a large number of partners makes better business sense. Plus, if you're producing the underlying software for that whole ecosystem, your partners are going to dump you if you start competing against them.
But lack of absolute control is a vulnerability when you're going up against companies that do have absolute control. They can do single, stand-out headline-grabbing products while you do ecosystems and the tyranny of choice. And as hardware becomes progressively consumerized, not being able to do those stand-out products becomes more and more of a vulnerability for you. So by ruling out hardware Google may be setting itself up as Microsoft 2.0. And not in a good way. Google has done a stand-out product that isn't particularly stand-out, and Rubin is making it difficult for it to come back for another try while retaining any crediblity.
Hell, Rubin even said "ecosystem." And what about that ecosystem, and the whole "strategy behind the devices"? That is the "store", rolled out in a very basic and Googlish kind of way. Now, you may disagree, but it seems to me that this is a store, and this is a store, or even that this is a store (but not as good as the other two). That, on the other hand, is merely a page selling one product.