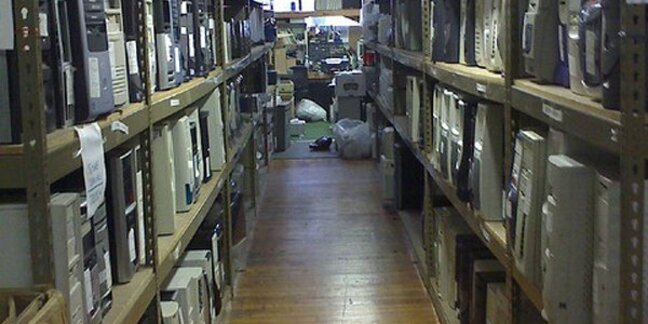 Iomega will offer a Windows PC cloning facility to store a PC clone on an Iomega hard drive and run it in a connected secondary PC, notebook or netbook.
The v.Clone software will copy a complete image of a primary PC to a USB-connected Iomega hard drive. When that hard drive is connected to a secondary PC, be it a desktop, notebook or even certain kinds of netbook, you can launch the clone and work with it as a virtual machine running under the new host machine's operating system using Iomega supplied v.Clone reader software.
Iomega describes it as "a custom version of the VMware Player software". EMC blogger Storagezilla said: "It's effectively a differential snapshot backup writing into a VMDK file, you then play the VMDK in a VM Player."
In a pdf note on the software, Iomega states: "No data is left behind on the secondary computer, so your files are kept secure." You will also need password access to launch the clone and, as a second level of protection, the clone image can be encrypted with Iomega eGo Encrypt or Encrypt Plus Portable Hard Drives.
Iomega's note says: "When you plug the hard drive into a secondary computer (for example, a netbook or another PC), you can run the virtual image as an application that let's you work just as if you were on your primary PC. Any revisions are saved to the virtual image on the external hard drive, not on the secondary PC."
Such revisions will be synched back to the primary PC when the hard drive is reconnected to it.
This general process will be utterly familiar to Parallels users who run Windows as a virtual machine under Parallels on the Mac.
The restrictions are that the primary computer and any secondary computer used "with v.Clone must be running a supported version of Windows (including Windows 7, Windows Vista, or Windows XP)." You need administrator access to both the primary and secondary computers.
Iomega makes the point that, obviously, the cloned image is a kind of disaster recovery facility if your primary PC breaks. However, it is not a complete backup replacement as "v.Clone will clone the entire contents of your hard drive only when a clone is created.
"Once the virtual image is created, the v.Clone sync process keeps the contents of certain key folders (such as My Documents/Documents) up-to-date. Sync does not include the operating system or applications."
Iomega adds the point that "you can't use v.Clone to restore the operating system, applications, and data files back onto your primary system".
You can check out software upgrades using the clone so as not to risk damaging your primary PC with untested software.
There are possibilities here for running a Windows 7 Home Premium v.Clone in a Windows XP secondary PC and so getting some remote access from your secondary Windows XP machine back to the primary Windows 7 PC. Currently Windows XP users don't have remote access to Windows 7 PCs via that software's HomeGroup facility. If Iomega has a way around that limitation many XP users would be well pleased. If it also works with a Parallels XP virtual machine on a Mac that will please lots more users.
Iomega says it will demonstrate the v.Clone software at CES in Las Vegas later this week. It will be included with its USB-connected hard drives in the first quarter of this year and the software will also be available as a download. ®
Sponsored: Webcast: Simplify data protection on AWS