Microsoft has applied for a US patent that the company hopes will close a loophole when it comes to licensing software to third parties.
Redmond put forward its request to patent what it has dubbed the "extensible agent-based license structure" on 25 June 2008. The USPTO published the firm's application, which is credited to inventors Sanjay Garg, Scott Kurtzeborn, Qi Zhong and Gordon Hardy - working on behalf of MS - on 31 December 2009.
The software giant noted in its application that its current licensing systems, including the controversial product activation technology it uses, come with a restrictive set of licensing schemes when the firm's software is released.
It pointed out that some of its product range, such as MS Office, offered stock keeping units (SKUs) that come with an array of bundled apps.
"It is hard to enable any new licensing scenarios after a product releases. For example, users may request new types of licensing terms, such as subscription-based licensing, where the user pays for a period of use of one or more applications," said Microsoft in its USPTO application.
"As another example, a third party may want to include an application from another software provider with its own applications or service offerings. Unless the software provider is aware of these types of models when the product releases, adding support for them generally involves updating the product entirely."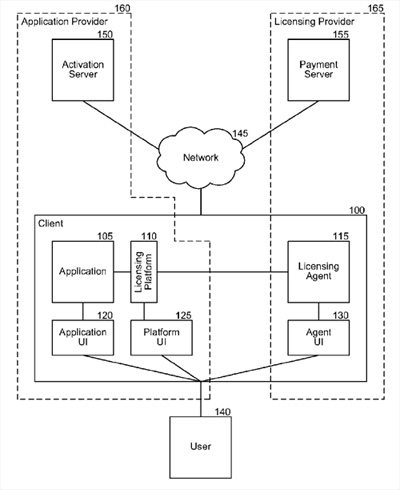 Microsoft squeezes from both sides
Microsoft claimed that when a third party pooled products from a software provider, "the user is often left with a more complicated licensing experience, because each application must be activated separately."
All of which suggests that Microsoft is trying to simplify its licensing process for its customers. But of course, the software multinational is attempting to rein in pirating of its products, too.
"Copyright infringement of this kind is extremely common in the United States, Mexico, China, Indonesia, Russia, Brazil, Zimbabwe, and several other parts of the world. Most countries have copyright laws that apply to software, but some countries enforce the laws better than others," said Microsoft.
Microsoft also fingered China (again) as the worst piracy nation by citing claims made by the Business Software Alliance, which estimated that 82 per cent of PC software used in the People's Republic in 2006 abused copyright.
It's hardly surprising to see Microsoft attempt to crackdown on groups that are effectively outside of its control. After all, third party apps are becoming big business, and the last thing Redmond wants is for licensing of its software empire to be circumnavigated by opportunists. ®