MIPS Technologies is hoping Google's Android OS can find fame and fortune outside the mobile world where Google hasn't set its sights on making a device of its own (yet).
The California-based chip designer plans to trot out what it reckons will be the first commercially available set-top boxes based on the Android OS, along with a MIPS-based media center and netbooks at the Consumer Electronics Show in Las Vegas this week.
Although Google designed the Linux-based Android OS as a mobile stack, after the search giant open-sourced the platform back in September 2009, numerous firms have been eager to push Android into ARM-based netbooks, e-readers, and other devices. After porting Android to its MIPS microprocessor architecture earlier in 2009, the company reckons it can make the Google OS catch on as a standard platform for notably non-portable household electronics. And it was only really a matter of time before it found its way to set-top boxes.
At CES, MIPS will demonstrate an Android-based set-top box it claims will be the first of its kind to be commercially available. The box was made in a partnership between DTV system maker Western Mediabridge and system-on-a-chip provider, Sigma Designs.
Of course, we immediately wondered just exactly how commercial and how available the box would be for its claims — yet alas, representatives from both Western Mediabridge and Sigma weren't available to provide pricing and release date information.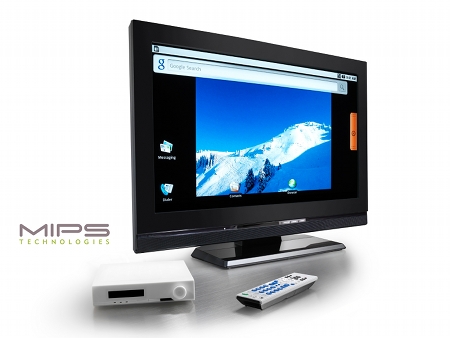 Looks nice though...
The companies have grand hopes for the platform.
"We anticipate there will be a lot of Android-based products and applications in the near future which will be connected to each other," said Ernest Bang, CEO of Western Mediabridge in a statement. "Our belief is that the Android set-top box will be positioned as a main device among in-home Android-based multimedia devices. We will continue to add more applications, making a more feature-rich Android set-top box."
MIPS will also demo a prototype of an Android-based IPTV set-top box developed by KDDI R&D Labs, a subsidiary of Japanese telecom carrier KDDI. The box will support IPTV set-top functions like multicasting and video-on-demand, and MIPS claims it will meet the DRM requirements of cable providers.
In addition, MIPS will show off a MIP-based netbook computer using Android, dubbed the YeeLoong8089. (Rolls of the tongue, donnit?) Created by China's Lemote Technology, the company claims the small, cheap computer is loaded with 100 per cent free software. ®