Review The new N130 and N140 netbooks will probably be the last such machines we see from Samsung running the Silverthorne Atom processors as come January it is promising to announce a raft of new machines using the next generation Atom Pine Trail chips.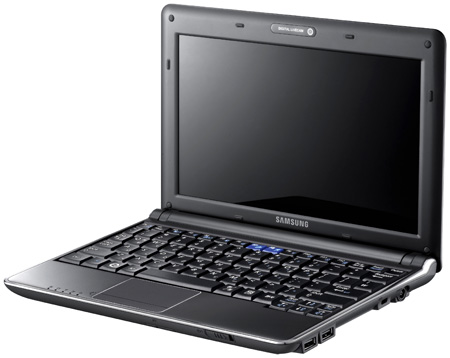 Samsung's Windows 7 netbook entrant, the N140
Of course we don't know when exactly the new machines will be available to buy or how much they will cost, but its fair to assume they will replace most of the current range, specifically the NC10, NC20, N110, N120 and N310 machines leaving the N130 and N140 as the entry level of Samsung's netbook range.
Though the N130 and N140 look very similar there are some significant internal differences including the battery capacity - 4,000mAh in the N130, 5,900mAh in the N140, the HDD capacity - 160GB for the N130 and 250GB for the N140 and the operating system. The N130 makes do with good old XP while the N140 gets the shiny new Windows 7 Starter.
Well, that's the current state of play in the UK market - don't blame us if 250GB Windows 7 N130s turn up the day after you read this. Even so, you will always get the smaller battery with the N130. After all, it's the N140 that gets the new OS and the man sized power pack and that's the machine we're reviewing here.
The design of Samsung's netbooks has been a case of cautious evolution, rather than revolution. The end result is that the N140 is both the smartest and smallest Samsung netbook yet. With a footprint of 262 x 185.5mm its 1mm wider, but 1mm shallower than the NC10 while at 28.55mm tall its also a touch thinner. The 6-cell battery, despite being more capacious than that fitted to the NC10 protrudes less, giving the N140 a noticeably more slender profile. At 1.27kg the N140 is also lighter to the tune of 60g.

A discreet, yet more powerful battery than previous models
Its a nice looking machine too. Samsung's netbooks have been shedding the bling and design fripperies for a while and the N140 makes do with a polished silver key line around the chassis and a narrow sliver strip around the touch pad but nothing more. In black, the N140 a nicely understated bit of kit that you can whip out of its bundled padded carry case in the best of company. As you would expect with a Samsung, it's also very well made with the lid hinge having a particularly pleasant and well weighted action.