CES 2010 It's official, Centrino is now no longer a laptop platform brand, it's solely for wireless adaptors, of which Intel announced a trio of new models today.
Top of the list: the Centrino Ultimate N 6300, which the chip maker claimed, delivers range-leading 802.11n Wi-Fi throughput of up to 450Mb/s - though you'll need an access point that, like the 6300, has a 3x3 Mimo antenna array.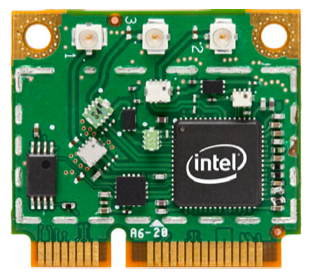 Intel's Centrino Ultimate N 6300: half-height PCI card
The other parts - the Centrino Advanced N 6200 and Advanced N + WiMax 6250 - both run at up to 300Mb/s. All three products offer connectivity in both the 2.4GHz and 5GHz bands.
The WiMax model runs in the 2.3, 2.5 and 3.5GHz bands too.
The adaptors come with My Wi-Fi - Intel's virtual hotspot tool that allows the host to share its own wireless internet connection with up to eight nearby devices. ®
Similar topics