This article is more than 1 year old
Intel unloads 32-nanometer Cores blitz
Squeezes into embedded
CES 2010 Intel has kicked off the Computer Electronics Show extravaganza and gadget fest by unloading a slew of desktop, laptop, and embedded x64 processors from its Westmere family of 32-nanometer products.
Intel previewed its plans for the Core i3, Core i5, and Core i7 chips in mid-December, saying it would get the desktop parts, code-named Clarksdale, and mobile parts, designated Arrandale, to market as the new tech year got started at CES, as it always does.
Back then, Intel was talking generalities in an attempt to give the IT press and Wall Street something to chew on other than the antitrust settlement with rival Advanced Micro Devices, which hit a month earlier, the mothballing of its Larrabee graphics co-processor, and, serendipitously, the antitrust lawsuit launched by the US Federal Trade Commission against Intel the day before the curtain came up a little on the Clarkdale and Arrandale chips.
Intel outed the Pine Trail upgrade to its low-power Atom processor line ahead of CES, too, which was a bit of a surprise.
All told, Intel has launched 25 different chips, including processors, chipsets, and wireless adapters. Intel said that more than 400 laptop and desktop PCs are being prepped for the new Core i3/5/7 chips, and another 200 devices are in the works for the embedded variants of the processors. You can see the feeds and speeds of the Core desktop, laptop, and embedded processors launched today, below: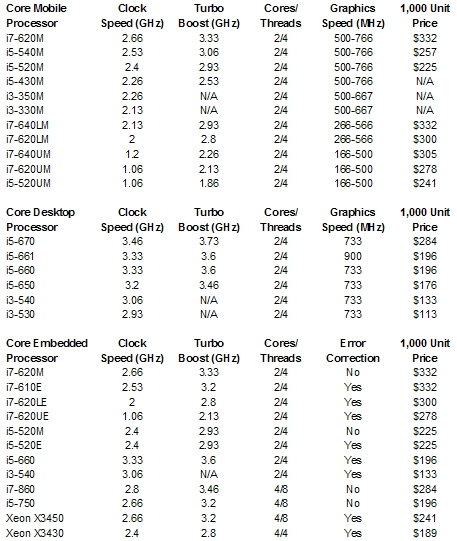 The Core i5 chips support Turbo Boost, allowing a core to run at a higher clock speed if the other cores in the chip are quiesced because they are not doing any work. The Core i3 variants of the Westmere chips have Turbo Boost deactivated, which is one of the reasons why they also sport lower prices.
As previously reported, the new Core chips plunk a 32 nanometer processor in the same package as a 45 nanometer graphics processor, which is called HD Graphics by Intel.
Intel's push into the embedded markets is intriguing, and one that AMD has been taking more seriously lately, too. For some embedded applications, an Atom or VIA x64 chip is not enough, and the low-wattage embedded parts may find some enthusiastic supporters.
It remains to be seen if a 1.06GHz, 18 watt i7-620UE part has enough oomph to do any useful work, but the 2GHz i7-620LE running at 2GHz and rated at 25 watts could be interesting, and an effective countermeasure against AMD's 35 watt Opterons. And, yes I know that is mixing TDP and ACP thermal ratings. ®