Research showing that mobile phones protect mice against Alzheimer's disease could be bad news for mobile phones.
Florida-based boffins have been getting mice on the phone by exposing them to the electromagnetic fields generated by a mobile phone to see how it accelerated Alzheimer's. Instead, they found that the fields actually retarded the disease and even improved the performance of those mice already suffering, demonstrating that mobile phones can affect the health of a brain - in mice at least.
The study, which is published today in the Journal of Alzheimer's Disease, used mice bred for their susceptibility to Alzheimer's, and exposed some of the 96 mice involved to electromagnetic fields for an hour a day for between seven and nine months. Rather to the surprise of those involved the mice exposed to the field performed better in memory tests than the control, and even when the disease had developed performance could be improved by repeated exposure.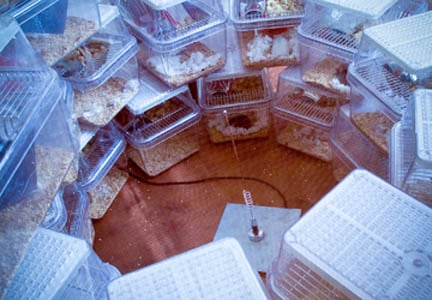 Hello? I'm in a cage... yes... a cage!
Obviously, if the results bear out, this is very good news for Alzheimer's research as it points the way to non-intrusive treatment. But it would also provide a mechanism for a mobile phone to alter the health of a human brain.
The Campaigners Against Stuff continue to believe that mobile phones cause cancer, and leaving aside the numerous studies that have failed to find any statistical link there is still the problem that the electromagnetic radiation produced by a mobile phone lacks any mechanism to interfere with brain cells. The heating generated by a mobile clamped to the head is insignificant, and researchers have failed to find any other way in which cells can be affected.
But this study seems to show that cellphone radiation can "prevent beta-amyloid aggregation and remove pre-existing beta amyloid deposits from the brain", which is a good thing in this context but still demonstrates changes to the brain brought on by cellphone exposure.
The researchers involved suggest that the heating of the brain could itself be responsible, comparing it to the heat generated when one thinks hard and suggesting that it's simply increased brain activity that's protecting the mice, though they admit to not really having any idea:
"It will take some time to determine the exact mechanisms involved in these beneficial memory effects ... One thing is clear, however - the cognitive benefits of long-term electromagnetic exposure are real, because we saw them in both protection and treatment-based experiments involving Alzheimer's mice, as well as in normal mice." ®
Similar topics