This article is more than 1 year old
Pioneer puts Pandora Radio in your car
But only if you have an iPhone
CES 2010 Pioneer hammered another nail in the coffin of traditional music radio when it announced that its new top-end car-audio and satnav system would - among many other features - include support for Pandora Radio.
There's one major hitch with the Pandora support in the new AVIC-X920BT in-dash AV receiver, however: you need an iPhone to make it work.
In addition, Pandora's custom radio channel service is available only in the US. Which is okay, seeing as how the satnav capability currently only extends to the US and Canada, though other map sets will be available later. Because of licensing issues, it is difficult to see Pandora making its way to the UK anytme soon.
That iPhone will also need a free copy of Pandora's iPhone app. And then there's the $45 CD-IU50V USB cable - which, on the plus side, also provides control of the iPhone (or an iPod) through the AVIC-X920BT's 6.1-inch (15.5cm) touchscreen interface.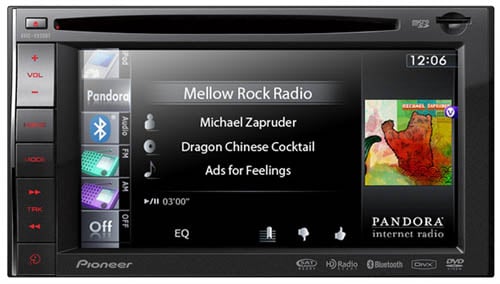 The Pioneer AVIC-X920BT provides access to Pandora Radio - you supply the iPhone
But once you have all that kit in place, commercial-free, personalized music is available through Pandora. Not all Pandora features will be available, however. You won't for example, be able to create new Pandora stations or delete existing ones through the AVIC-X920BT's touch-screen interface. Nor will you be able to buy songs through the iTunes Store or view Pandora-supplied additional song and artist information.
You will, however, have one slick car-audio head unit and satnav system. The AVIC-X920BT also features DVD playback, Bluetooth for hands-free calling and USB streaming, a microSD card slot, an "ECO Graph" function that analyzes your driving style and tells you how much you're contributing to the destruction of Planet Earth, and a 3D graphic accelerator to power the unit's 3D interface. It's also ready for Sirius XM radio and HD Radio, should you care to invest in those services.
One trick up that 3D interface's sleeve is what Pioneer calls MusicSphere, which presents a 40-sided spherical interface that's loaded with what the company calls "mood-based playlists" created by an iTunes plug-in that analyzes your music collection and organizes it, in the words of Pioneer, "based on various musical attributes such as feeling (bright, energetic, gloomy, relaxing calm), rhythm pattern, Beats Per Minute (BPM), year of the song and/or date."
At launch, the AVIC-X920BT's Pandora Radio support is for iPhone only. Android-phone owners and others need not apply. ®