This article is more than 1 year old
Packard Bell oneTwo M
All-in-one kitchenware?
Review As the world swings inexorably away from desktop PCs towards notebooks, netbooks and PMPs, the PC has to adapt or die. One way to go, as Packard Bell would have it, is the touchscreen media PC. It follows the iMac paradigm that the whole thing should be built into the back of a large-format LCD screen.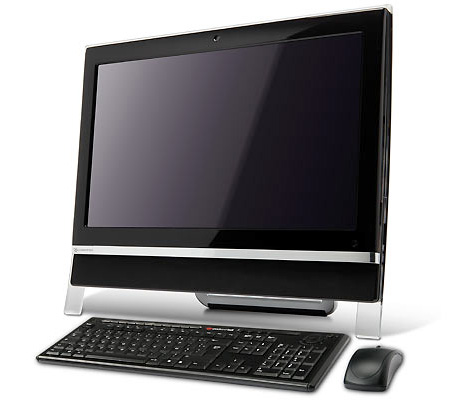 A nice touch? PackBell's oneTwo M includes a Freeview tuner
The concept of a media PC, for use in a living room or study/bedroom isn't new and integrated computers built into LCD screens have been around a while now, but Packard Bell's oneTwo machines have two extras to set them apart, namely, a touchscreen with support for Microsoft Surface apps, and a built-in Freeview DVB-T tuner.
There are two oneTwo models: M for the Medium 20in screen dual core CPU and L for Large 23in model with a quad core chip. The L version supports a full 1080i HD resolution, but the M, reviewed here, has to make do with a 1600 by 900 widescreen. Both models include wireless keyboard, mouse and remote, so they can be used as conventional large-screen desktops, as well as media centres.
The case of the oneTwo M is all gloss black plastic, apart from an insert of clear acrylic between the two case halves, which extends down to form the front feet of the device. On the back panel are sockets for Ethernet, TV tuner and line out, as well as four USBs, and there are a further two USBs on the left-hand edge. The right-hand edge offers a multi-format DVD rewriter, a 5-in-1 card reader, plus mic and headphone 3.5mm sockets.
There's a VGA-resolution webcam set into the top of the screen surround and this is pre-configured for Cyberlink YouCam, so can be used immediately for video links or recordings.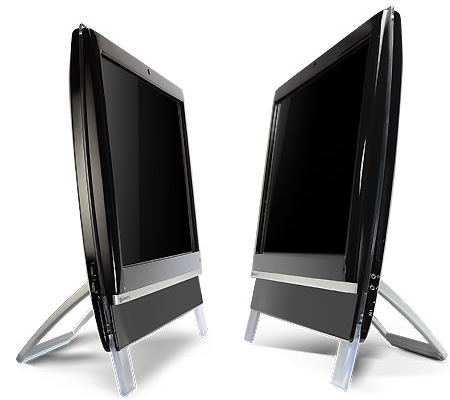 The larger 23in model features a quad core processor
The PC internals are well integrated, so the case is only 50mm at its deepest. It doesn't rely primarily on laptop components to do this, either. The processor is a Pentium Dual Core T4300 chip, coupled to 3GB of main memory and an Intel Graphics Media Accelerator X4500HD.