This article is more than 1 year old
Packard Bell oneTwo M
All-in-one kitchenware?
In performance terms, the 2.1GHz T4300 sits somewhere between an Athlon 64 x2 5400 and an Opteron 1220, so it's no slouch. There's a cooling fan inside the case, which is quite audible, but it doesn't run in normal use, unless normal use is running heavyweight games.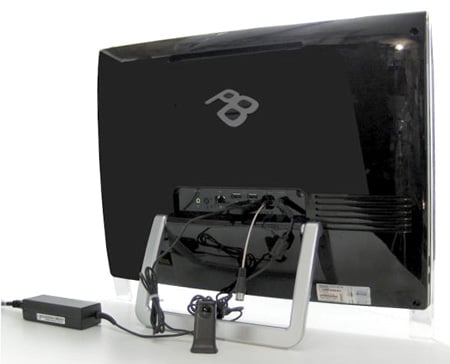 Vertical operation can be tiring on the arms, but the stand won't allow a horizontal position
3GB is enough to run 64-bit Windows 7 Premium comfortably and, as usual, Packard Bell has bundled a good range of support software spanning from the genuinely useful to the needlessly trivial. In the former category are full versions of MS Works 9, Adobe Photoshop Elements 7, Nero Essentials and a nagging Norton AV. In the latter category are most of the touch applets – mainly demos – and the games, which are mainly time-limited demos.
The machine's touchscreen is reasonably responsive, but it did miss a few light button presses. It supports multi-touch gestures, so you can use two fingers to zoom into Microsoft Surface Globe, for example, and Packard Bell offers a second desktop page, full of touchscreen applets. There's a physical button below the screen to switch between desktops, which somehow undermines the idea of the touchscreen.
It's hard work to use the screen for more than casual application control. Waving your arms around Minority Report-style may work for Tom Cruise, but this is a small screen and you need good positioning control to press small Windows buttons. Your arm soon starts to ache. This isn't a criticism of the oneTwo alone – the same is true of any vertically mounted touchscreen – but Packard Bell could at least have built a third position into the stand, so the screen could be set near horizontal on a desktop.
The keyboard and mouse are both wireless and look a bit like afterthoughts, as do the rather spongy buttons on the remote. The key feel is also spongy and not very responsive, and the mouse is small and not a particularly good fit to the hand. Worse than this, though, is that they work with a wireless USB dongle and there are no specific instructions on setup.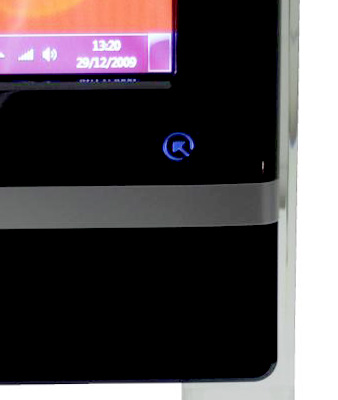 A dedicated Page button switches between desktop layouts
Given that the oneTwo machines are aimed at non-technical customers, the generic user guide, which makes no mention of the specific hardware supplied here, is unhelpful. There appears to be no Connect button on the dongle, so it would be a big help to know you should press the indicator LED to get it to search for peripherals.