This article is more than 1 year old
Packard Bell oneTwo M
All-in-one kitchenware?
Intel's GMA X4500HD graphics support DirectX 10.0 and Shader Model 2.0 and share 1.2GB of main memory, according to DXdiag, hence the unusual 3GB provided. Although it's a good GPU by embedded standards, it's not up to discrete nVidia or ATI chips, so some games may stutter.
Benchmark Tests
PCMark Vantage Results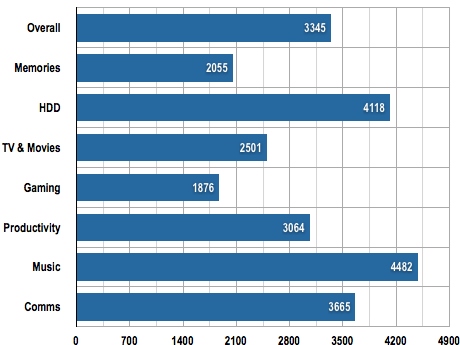 Packard Bell oneTwo M
Longer bars are better
An overall PCMark Vantage score of 3345 is poor, even compared with some laptops and comes in somewhere at the Radeon HD3400 and GeForce 8500GT graphics level. This is also reflected in the gaming score, which is down at 1876. As you might expect, the machine is better at TV and Movies, which recorded 2501 and at Productivity, where it scored 3064.
Considering the size of the speakers in the facia below the screen, the sound is unexpectedly good, with plenty of volume and a nicely balanced frequency range. Dolby Home Theater is implemented and works well to enhance DVD content. Equipped with a 640GB, 7,200rpm Sata hard drive, the storage is enough for a couple of weeks of TV, but with only a single Freeview tuner, you will have to be viewing the channel you're recording.