This article is more than 1 year old
Packard Bell oneTwo M
All-in-one kitchenware?
This is no gaming rig, but for TV and SD video playback it's fine and there was no sign of jittering or artefacts on the test media we used and stations we watched. You're buying convenience and looks here, rather than outright performance.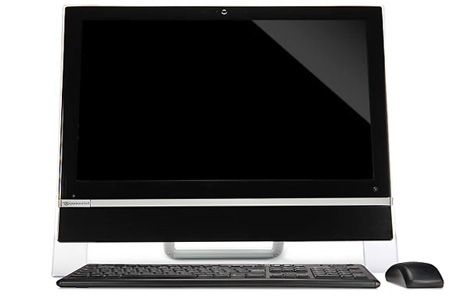 Good for multimedia, but demanding games will inevitably lag a bit
For the extra £300 of the oneTwo L, you get a 23-inch, full HD screen, a Core 2 Quad Q8200s processor, ATI Radeon Mobility 4570 graphics with 512MB on-board, 4GB memory, 1TB of hard drive but still no Blu-ray drive. Packard Bell talks of this as an option, but none of the UK models appear to include one.
Verdict
Although this is the smaller, cheaper oneTwo, it offers a lot for a reasonable outlay. A decent performer, with a well-thought out spec and an easy way of getting at a lot of content make it a good choice for somebody not bent on customisation. The touchscreen works adequately, but you wouldn't want to operate the oneTwo M by this means alone. ®
More All-In-One PC Reviews...

MSI Wind Top
AE1900

Apple
iMac

Shuttle
X 5000TA

Advent
AIO-100

Packard Bell oneTwo M
A 20in touchscreen PC and TV with a good spec and well-integrated software bundle.