Analysis Eagle-eyed bloggers who, it seems, have nothing better to do with their time then to scan Microsoft's Windows 7 underbelly, recently discovered a Registry Key that points to service pack 1 of the operating system.
Windows 7 has only been available to consumers for less than three months, and already there is talk about when the platform's first service pack will land.
But putting this into context, it's unlikely that a package of updates for the OS - which has proved unsurprisingly vastly more popular than its predecessor - will rock up any time soon.
Windows Vista was riddled with bugs, offered (at best) lacklustre support for third party software and hardware, and failed to ever take-off as an operating system to be taken seriously by individuals, let alone businesses.
Despite that, the first service pack for Vista didn't actually land until 14 months after shrink-wrapped copies of the operating system were unlovingly stacked on retail shelves in January 2007. Microsoft handed OEMs the ill-fated software in November 2006.
Similarly, MS pushed its Windows 7 OS out to computer makers last summer, ahead of the software's general release on 22 October 2009.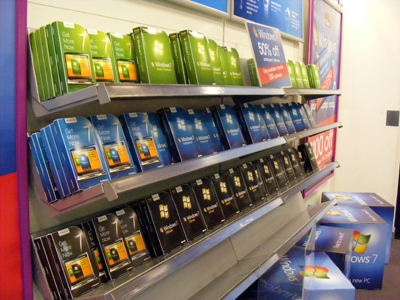 But this time around Microsoft made sure it was a little more prepared from the start by ensuring that third party support was beefed up in Windows 7. And to a large extent, that learning-from-the-mistakes-of-the-past move has paid off.
"Our Partners are also excited for Windows 7, demonstrating fantastic ecosystem support. As of today, there are than 800,000 unique apps and 238,000 unique devices that work great with Windows 7. That's more than a million reasons to choose Windows 7," claimed Microsoft's Brandon Le Blanc in a blog post yesterday.
All these details combine to suggest that service pack 1 won't actually be released by Microsoft anytime soon. In fact, it's likely that SP1 is at least a year away from being squirted out by Redmond Towers.
After all, that's a pretty standard timeframe for the company, which tends to set a white goods-like three-year lifecycle for its operating systems, even though that old workhorse - Windows XP, which debuted in October 2001 and is on its third (and final) service pack, refuses to die.
Microsoft will, of course, be hoping that Windows 7 will eventually stamp out any lingering nightmares that customers saddled with Vista continue to have.
It will doubtless want Windows 7 to have a similar success story to XP, among individuals and businesses alike.
And having users looking for clues in among the operating system's Registry is proving a boon for Microsoft. The software giant's flacks have been keen to big up the wonder and joy of its latest "God-bothering" platform, which MS would have you believe was your idea.
With all that said and done, Microsoft is well and truly on-message about its precious "well-received" Windows 7 OS.
As for when the first service pack will arrive, a Microsoft spokesman told The Register: "There is currently no news around this at the moment."
Microsoft wonks are doubtless testing security updates and feature tweaks that might eventually be rolled into Windows 7 SP1, but it certainly doesn't want to go public about that work yet. So, business as usual then. ®
Similar topics