CES 2010 LG Electronics has confirmed the first devices featuring Microsoft's highly anticipated Windows 7 Mobile will hit retailers in 2010.
LG is reported to have told the Consumer Electronics Show (CES) in Las Vegas, Nevada, it will ship phones running Windows Mobile 7 and 6.5 this year.
Gizmodo reported LG saying Microsoft supposed-iPhone challenging touch-and-gesture based Windows 7 will ship on its eXpo smartphone and projector and the Snapdragon. You can see the report below, or read Gizmodo's full coverage from the event here.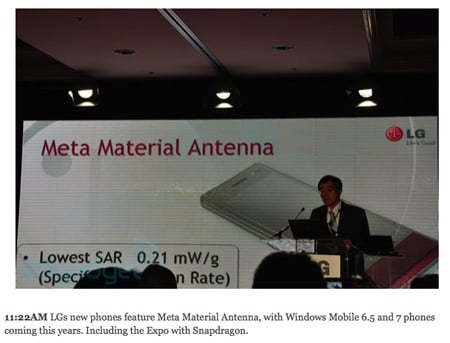 LG promises Windows-Mobile-7.0 phones this year
The 2010 date appears to confirm the previously anticipated delivery of Microsoft's mobile operating system.
UX blogger Stephen Chapman last May wrote, based on a leaked slide from Microsoft partner Commentor, Windows Mobile 7.0 would be released in November 2009 with devices due April 2010.
Microsoft's chief executive Stave Ballmer almost completely dodged the subject of Windows Mobile during his CES keynote Wednesday, but promised more details next month at the annual GSM Mobile World Congress, in Barcelona, Spain.
This suggests Windows Mobile 7.0 next month.
"We will have a lot more to say about phones next month at Mobile World Congress," Ballmer said.
A Microsoft spokesperson refused comment on the dates, saying simply the company works "closely" with LG. ®