Yes, Google is exploring the possibility of slipping ads into Street View, its virtual reality project that seeks to photograph the world and recreate it online.
According to Cnet, a Google presentation recently delivered to European marketing and ad agencies at least hints at a future where Street View does ads, virtually recreating the sort of ad-saturated dystopia portrayed in sci-fi cinema like Minority Report and Brazil.
And it's no surprise.
In 2007, Google filed for a patent on a system that automatically recognizes word and characters that turn up in digital photos. One of the Googlers behind the patent application was Luc Vincent, self-described as one of the leaders of the Street View project, and naturally, the application discussed using the system to serve ads.
"In one implementation, advertisements are presented along with the presented image," the application read. "For example, an advertisement can be presented for the business identified in the image. Alternatively, one or more advertisements can be presented for alternative businesses. Additionally, the advertisement can be for one or more products associated with the business in the presented image, user search terms, or according to other criteria."
Then, in March of last year, a startup calling itself Pixazza debuted a new-age ad system that serves up ads when web surfers mouse over net photos. The company also unveiled Google as one of its primary backers, and its headquarters are in Mountain View, just down the road from the Google Chocolate Factory.
"Pixazza hopes to do for images what Google's AdSense did for web pages," read a canned statement from chief executive Bob Lisbonne, a former senior vice president and the general manager of Netscape's browser division.
It looks something like this: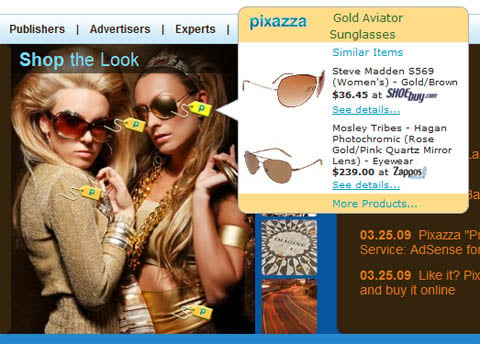 Google is already serving text ads when you search for public pics on its Picasa photo-sharing site, and we all know it's working overtime to slip ads into YouTube videos. With Street View, it's only a matter of time.
According to Cnet, Google's European presentation mooted the idea of Street View ads that link back to merchant info in its Local Business Center database. Somehow, they would also tap its Favorite Places program, where businesses attach bar codes to their (real) storefronts so that people (physically) passing by can bring up info and special offers on their smartphones.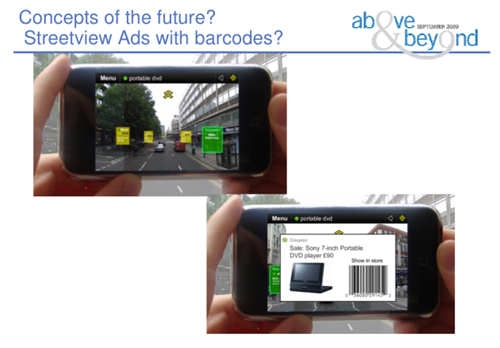 So, we'll have links to Google ads in the real world and links to Google ads in the virtual version of the real world. And in the virtual version, Google's presentation indicates, they'll appear like floating billboards.
You see, Google is taking the shortcut to Minority Report. Rather than bring the targeted ads to the real world, it's bringing the real world to the targeted ads. Yes, it's less disturbing. But only just. Street View was creepy enough already.
And if you aren't creeped out by Street View, if you believe in it, doesn't the ad serving defeat the purpose? We thought the idea was to recreate the real world. But now Google intends to tamper with its recreation for the sake of its all-important ad dollar. Serving ads alongside search results or book scans or toilet-flushing cat videos in one thing. This is another. ®
Similar topics