This article is more than 1 year old
Greenpeace: Apple ain't so brown anymore
Microsoft, Dell, Nintendo get toxic grade
Nature lovers at Greenpeace have made their - ahem - peace with the folks at Apple after some three odd years of lambasting the firm for using toxic chemicals in its products and not stitching Steve Jobs turtlenecks out of pure organic hemp1.
Greenpeace has released its latest hit-list of environmentally friendly and fiend-some electronics companies and — unusually to those following along with the org's past antics — Apple isn't being fingered as a toxic crusader. Greenpeace even shares praise for the Cupertino cult.
For its updated "Greener Electronics Guide," which grades corporate dedication to Gaia on a scale of 10, Nokia (7.3), Sony Ericsson (6.9), Toshiba (5.3), and Philips (5.3) rank highest for selling a range of products free of hazardous chemicals like PVC (vinyl) plastic and brominated flame retardants (BFR).
Apple ranked further down at a relatively respectable score of 5.1 along with LG Electronics, Sony, Motorola, and Samsung. The score had Cupertino jump from ninth place to fifth, and Greenpeace is more than eager to point out Apple's good side.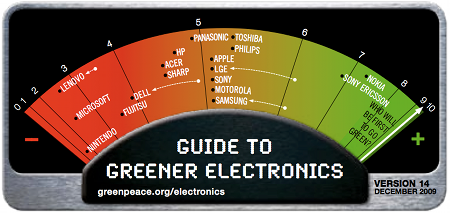 "Last year Apple cleared the final hurdle in eliminating toxic PVC (vinyl) plastic, making it the first company to completely eliminate hazardous BFRs and PVC in its computer systems," Greenpeace said in its announcement. "Pressure from thousands of Apple lovers and advocates turned the company green in the time it took to go from iMac G5 (2006) to iMac Aluminum (2009)."
Perhaps a bit odd that Greenpeace would focus on Apple when it's sandwiched in the middle of the rankings — unless you remember the org has admitted in the past that it's focused on Apple because it gets more attention. And if you can't hate 'em, love 'em, we suppose.
Back in 2006, Greenpeace launched a mock website in the style of Apple's homepage accusing the firm of not trying hard enough on environmental issues. At Apple's launch of the iPhone, the org famously held a demonstration near the site of Apple's expo and projected giant images of Asian scrapyards where they claim Apple electrics go to die.
Jobs shot back during during a slideshow at the iPhone launch, saying Greenpeace should "get out of the computer business" and "go save some whales."
Notable eco-laggards on the Greenpeace scale are Nintendo, Microsoft, Lenovo, Fujitsu, and Dell. Nintendo remains in last place for not setting a timeline to phase out PVC wiring and increasing CO2 emissions.
Samsung, Dell, Lenovo, and LG Electronics received "penalty points" for not following through with promised phase-outs of toxic chemicals. Microsoft has a low score mostly due to failing to show support for the revised EU Restriction of Hazardous Substances in electronics directive.
Which, of course, is why Greenpeace's rankings should be taken with a shovel of salt. A good deal of the score is based on a company's promises, publicity — and barring that the group doesn't actually measure the amount of toxic chemicals in their manufacturing facilities — guesses based on information the firm itself puts out.
But it does tell you where Greenpeace will strike next. Because Samsung dropped from second place to seventh for failing to eliminate all BRFs from its products by this month, Greenpeace said it will be busy "calling them out" on its allegedly lackadaisical attitude and launched a petition on Twitter. You can follow that petition here. ®
1 Steve Jobs' turtleneck is made out of orca foreskin, right?