This article is more than 1 year old
Pico projectors go large in 2010
Playthings for phones and cameras
CES 2010 Last year Nikon released the world's first projector camera, the S1000pj (reviewed here). Competitors have been thin or non-existent on the ground, but this will soon change, with mini, or "pico" projectors in cameras, mobile phones, as notebook accessories and as standalone units, set to go mainstream in 2010.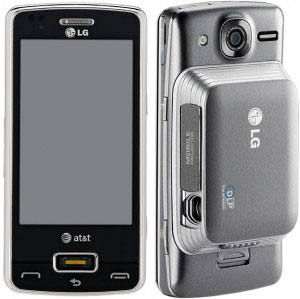 LG will fit a projector to its eXpo phone, for a fee
Pico projection is the generic term for a device – increasingly handheld – that is small, lightweight and able to project good-ish quality still pictures and videos.
Instead of using a conventional lamp as the light source, as is the case with old-school projectors, Pico projection equipment relies on LEDs and an accompanying processing chip to produce images and videos.
TI is a trailblazer for Pico projectors, with the firm's Digital Light Processing Pico chips incorporated into many products. Featuring up to 2.2m "microscopic mirrors" the chips switch incredibly quickly to produce high-resolution and full colour images. (TI has more to say about its DLP Pico technology here).
At CES this week TI displayed more than a dozen gadgets incorporating the DLP Pico, among them a prototype projector compact from Asia Optical. The Taiwanese camera maker describes the device as a world first: this probably means the camera is the first with TI's second gen DLP Pico chip, which supports WVGA resolution (854x480). Asia Optical is not exactly a consumer name, but it is a OEM powerhouse, making cameras for many well known brands. Expect the technology to tip up in many compacts this year.
Ti's pico projector technology is also fanning out into mobile phones.
LG's eXpo mobile phone is, according to the company, the first 1GHz smartphone in North America to sport an optional integrated Pico projector. It lets users shine presentations, webpages, videos and photos onto any service at up to 40in diagonally across.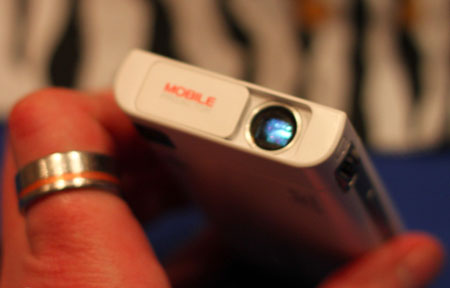 Samsung's W9600 has a Pico projector inside
Source: Cellularmania
LG hasn't divulged the chip's projection resolution.
Samsung has stepped in to announce the world's first mobile phone featuring TI's WVGA resolution chip. The W9600 handset can display images in excess of 60in, according to the company.
Consumers will probably be more drawn towards Samsung's Pico phone than LG's attempt because the W9600's protection technology is integrated into the device – images and videos shine out from the top of the handset.
Gaming technology also looks set to benefit from Pico projection, with TI itself this week launching Brightboxe - the world's first DLP Pico gaming projector.
The unit hasn't been designed with portable consoles in mind, admittedly, but TI said it hooks into practically every in-home console currently available, including the Xbox 360, PlayStation 3 and Wii.
Brightboxe has a 640 x 480p resolution, 500:1 contrast ratio and pure RGB LEDs - so, according to online reports, its they will never need replacing. Decent quality images can be projected at up to 60in, though projections can even go as far as 100in.
Other consumer devices set to benefit from advances in Pico projection technology include pocket projectors. Although not a new category, manufacturers including LG and Samsung have recently released sub-$500 models able to project SVGA and XGA quality images.
Can't see the video? Download Flash Player from Adobe.com
LG's eXpo phone is currently only available in North America, where the phone costs $200 and the projector another $180. A launch date or price for Samsung's W9600 hasn't been confirmed.
TI's Brightboxe DLP Pico projector is currently available only in California, where it costs roughly $200. ®