Nikon Coolpix S1000pj
Shining example of a projector cam?
Review Every now and again, you come across a product that makes you think: How on earth did they do that? Well, Nikon's Coolpix S1000pj is such a beast, because it's a compact digital camera with a built-in pico projector.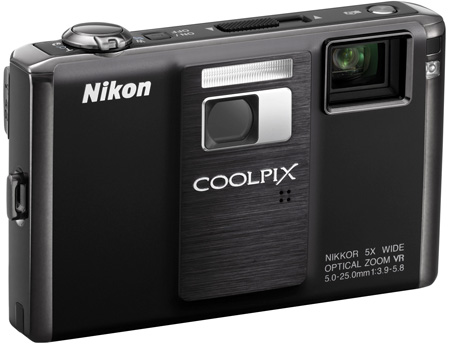 The little picture show: Nikon's Coolpix S1000pj
In fact, it would appear it's the first digital camera with this feature, and so no surprise that Nikon is feeling mighty pleased with itself. So, whether you want a presentation system that will fit in a (large) pocket or are an early adopter who loves being first with the latest gadget or gizmo, then the Coolpix S1000pj could be just for you.
The Coolpix S1000pj is much smaller than you might expect for a camera with a built-in projector. True, it's not a super-slim model, but at 99.5 x 62.5 x 23mm, it is certainly coat pocket-sized. It also weighs around 180g with battery and card, so it doesn't feel too heavy in your pocket.
It has a 1/2.3in CCD with a 12Mp resolution, which is rather a lot of pixels for a sensor of this size. There's an internal 5x optical zoom in the shape of an f/3.9-5.8 5-25mm lens, equivalent to a 28-140mm lens on a 35mm camera, so it's not a particularly fast lens, nor is it that great for wide-angle shots. The shutter speed range is 1/1500-2sec, and the ISO range, 80-6400. Note that at ISO 3200 and 6400 image size is limited to 3Mp.
The Coolpix S1000pj uses SD/SDHC cards and has 36MB of internal memory. The supplied lithium-ion battery is good for around 220 frames before a recharge. Stills are in JPEG format and you can also shoot movies in VGA resolution at 30fps (in AVI Motion JPEG format). The projector uses a 0.4in LCD panel with VGA resolution and a 4:3 aspect. It offers a 30:1 contrast ratio and has a throw distance range of 0.26-2m metres - the projected image size ranges from 5-40 inches. Its brightness level is 10 lumens, roughly equivalent to candlelight.

Additional buttons are required for projector control
Being a projector too, the Coolpix S1000pj has some functions you won't find on other cameras. A button on the top right is used for switching the projector on or off, and next to it is a slider for focusing the projected image. Nikon also provides a projector stand (read: small block of plastic) and a remote control, which can be used for taking pictures or controlling the projector. A nice touch is that Nikon has put IR sensors on both the front and rear of the camera, to enable self-portraits or projector operation.