This article is more than 1 year old
Nikon Coolpix S1000pj
Shining example of a projector cam?
But apart from this, the Coolpix S1000pj offers fairly conventional controls – although its operating modes have a few quirks. Switch on takes a little over a second and shutter lag is not a problem. The camera has a 2.7in LCD screen composed of 230,000 dots, so it's not especially sharp, although it is clear and bright. Apart from flash mode, macro, drive mode and exposure compensation, almost all functions are selected from the menu, which means you can't quickly adjust say, the ISO speed or the white balance.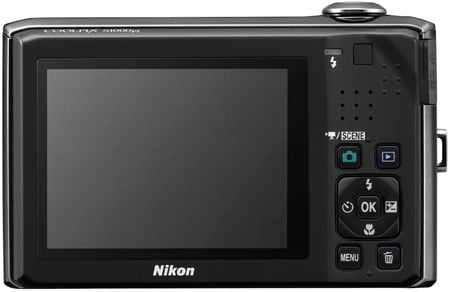 Limited manual controls are accessed through the menu function
A scene button provides access to auto mode, sixteen scene modes (including panorama, landscape and beach/snow), smart portrait (which uses face, smile and blink detection technologies), subject tracking and movie. Manual control is limited, as there is no manual aperture, focus or shutter speed control. However, in auto mode, you can adjust both the white balance setting and manually set the ISO speed.
We think that Nikon should have included a program mode for making such adjustments, so that users can quickly go back to the auto default settings by simply selecting auto mode. It would also mean that Nikon didn't have to give users the option of limiting the ISO speed in auto mode (you can select an upper limit of ISO 200 or 400). Another bizarre quirk is that the battery level icon only appears when the battery power is close to exhaustion.
And yet another oddity is that while the camera lens has a protective shutter, the projector aperture is exposed and is in the centre of the camera body, with the lens pushed to the left hand side. As a result, it's very easy to inadvertently obscure the lens with a finger when taking a shot. On a brighter note, shaky pictures shouldn't be a problem with the Coolpix S1000pj, as it offers five forms of anti-blur or image stabilisation technology including, a hybrid system that combines lens-shift and electronic vibration reduction technologies.
In terms of performance, we found the Coolpix S1000pj disappointing for a £400 camera, albeit one with an integrated projector. Noise was apparent in many shots, even at ISO 200, and things aren't helped by cramming so many pixels onto such a compact CCD combined with an auto ISO system that tends to select a high setting by default.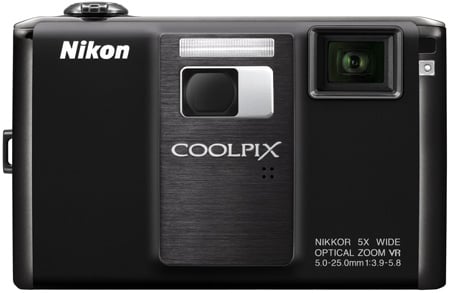 The corner lens is easy to obscure when handling
Colour reproduction was a little insipid too. The flash was very strong, and flare and red eye were a problem in a number of shots. On a happier note, the AF system worked well and close-up shooting was a doddle. The image stabilisation systems did a good job in reducing camera shake and you can easily create panoramic shots. Movie picture quality is nothing to write home about, but video motion is smooth. In low light shooting, the dedicated night scene mode did a good job in revealing detail and taming noise levels, but the ISO 3200 and 6400 settings were best left alone.