This article is more than 1 year old
Nikon Coolpix S1000pj
Shining example of a projector cam?
We were surprised by how well the projector worked though, especially when you consider its modest specifications. If you use the projector in a dark room, you can get pretty reasonable results. True, resolution is low and colours are on the pale side, but the ability to see your images blown up on such a large scale is fun.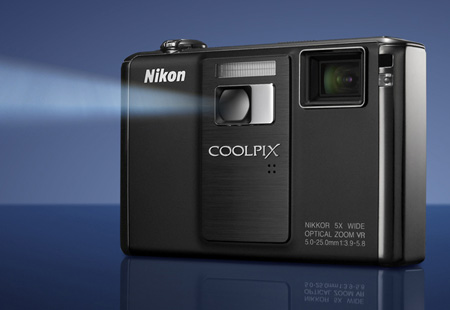 Undoubtedly fun, but room for improvement
We projected images onto a screen, wall, ceiling and even a large napkin, and they certainly created a buzz with the viewers. We also found that you could even get reasonable results when the throw distance was as large as four metres, although 1-2 metres gives optimum results. You can project both JPEGs and MJPEG movies, and use SD cards from other cameras too.
However, Nikon has missed a trick when it comes to panoramic shots. You can't stitch images in-camera, but even after you've created a panorama on your PC, you can't upload it onto an SD card and project it. Although the projector only offers a 4:3 aspect ratio, it would have been nice to view panoramic shots on a large scale, albeit with some side cropping.
Oh, and you can't connect the Coolpix S1000pj to a laptop and use it as a miniature projector, but then, that is probably asking rather a lot from such a product. During the projector mode, the camera gets warm, but never hot. Nikon says the battery should last about an hour in projector mode, and we were pretty sceptical about this claim. So, we put a fully charged battery into the Coolpix S1000pj, set it to run on a continuous slideshow loop – you can also add effects and music – and it lasted for 75 minutes.
Verdict
There is no doubt that the Coolpix S1000pj is a great concept and a superb technical achievement but as a £400 camera the performance is pretty ordinary, not to mention the lack of manual control and HD movie recording. Nikon should also re-think some of the camera's operating processes. But if you're really keen on having a camera that also doubles as a projector – and can find the Coolpix S1000pj at a discount price – then you'll have fun with this model. However, if good performance and a fair level of functionality is your preference, there are many cheaper alternatives. ®
More Camera Reviews...

Canon
Powershot S90

Olympus
PEN E-P1

Fujifilm
Finepix F200EXR

Ricoh GR
Digital III
Nikon Coolpix S1000pj
Crams two devices into a surprisingly compact body, but its performance and functionality are a tad disappointing for the price.