This article is more than 1 year old
Iocell NetDisk
Fast, secure and versatile, apparently
Review Offered either as a shell or in capacities up to 2TB and designed with small businesses in mind, Iocell Networks utilises Network Direct Attached Storage (NDAS) to pitch its drives above and beyond other comparable single-disk Nas solutions. With claims of ultra-tight security, Raid configurability with multiple drives and blazing fast transfer speeds, can the NetDisk 351UNE really live up to its billing?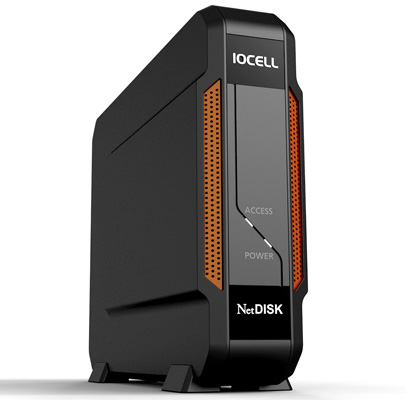 Fast and flexible: Iocell's NetDisk 351UNE
Measuring up at 161.3 x 213.5 x 48mm and weighing in at 567.5g the NetDisk is light, but sturdy. The case features some intriguing orange vents and two simple LEDs, one for power, the other for disk activity. It should be noted that there are no fans or heat sinks, so the device does run warm, but not hot by any means. If that makes you a tad nervous, Iocell does offer a two-year warranty as standard in the UK.
The NetDisk features Ethernet, USB and eSata interfacing. The implementations of USB and eSATA are standard, with the exception in that the drive appears to the host as being internally mounted rather than as a removable disk. This feature Iocell refers to as 'File System Tolerance'. LAN connectivity is another story.
Apparently, security is what the NetDisk is all about. Iocell has implemented a system of hardware unique registration codes, which must be used with the NDAS Device Management software on the host computer in order to access a remote NetDisk on a network. This involves entering a 20-character serial number and a 5-character write key to mount the NetDisk in read/write mode. The registration processes must be completed on each computer requiring access to the drive.
Yet during installation, it appeared that the NetDisk was a bit too secure, as we experienced extreme difficulty accessing the drive. The ensuing frustration eventually led to NetDisk's dissection and the discovery that the hard drive had shifted during transit due to unsecured mounting screws and simply needed re-seating. At this point, the included screwdriver proved very handy indeed.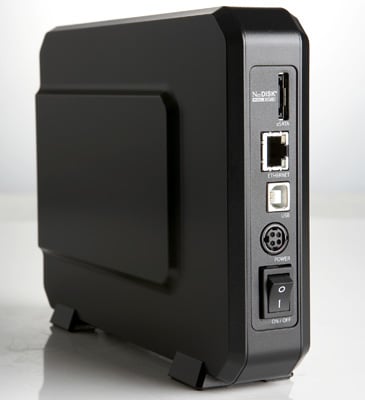 Multiple interfacing options plus drivers for Mac, Windows and Linux
In addition to the registration codes, another security feature is that the NetDisk doesn't require any TCP/IP settings and, according to Iocell, the unit is "invisible and safe from hackers." Given this locked-down approach to security, the NetDisk does not offer remote access beyond the local network.