Google's search Suggest function treats Islam a bit differently from the other major religions of the world. It's willing to suggest "Christianity is bullshit" or "Judaism is false," but if you begin to ask what Islam is, it won't suggest a thing.
Google says that this search oddity is a bug - and that its search gurus are working to fix it. But several days have passed since it was publicly uncovered.
As originally noticed by The Next Web blog, Suggest isn't shy about suggesting search queries that put several major religions in a less-the-favorable light. If you type, "Christianity is" into Google's search box, for instance, the web giant suggests queries such as "Christianity is bullshit," "Christianity is not a religion," "Christianity is a lie," and "Christianity is fake":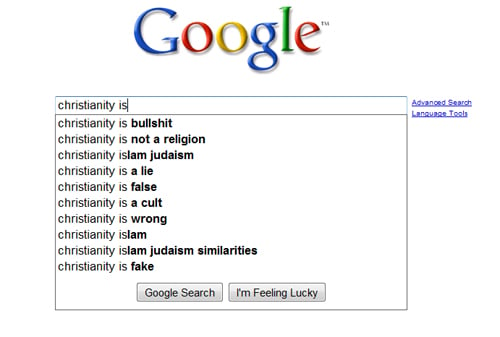 This is only what you'd expect. Suggest suggests queries based on what others have searched for in the past. If you type "Judaism is," "Hinduism is," or "Buddhism is," Google also provides a long list of suggestions - some with a negative bent, some not. But if you type "Islam is," you get nothing: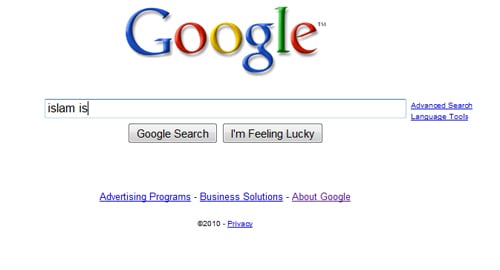 Google has not responded to our request for comment on the matter. But on January 5, it told Search Engine Land that its Islam Suggest block is a bug, saying "We're working to fix it as quickly as we can."
Six days seems like an awfully long time to fix what would seem to be a simple bug, but there you have it.
Google has long offered search suggestions from other parts of its search engine. Then, in mid-December, it began offering real-time suggestions from its home page search box - before you've actually performed a query. These suggestions are based on what Google has indexed and what others have searched for in the past, but they may be personalized according to your particular search history.
People will search for anything and everything - and viral search games can surely skew results - so Google's suggestions are frequently rather bizarre. And amusing. If you type "can je," for instance, you get "can jesus microwave a burrito." This points you to a page where Yahoo! attempts to answer the question "Can Jesus microwave a burrito so hot even he could not eat it?" - a metaphysical query first floated by Homer Simpson.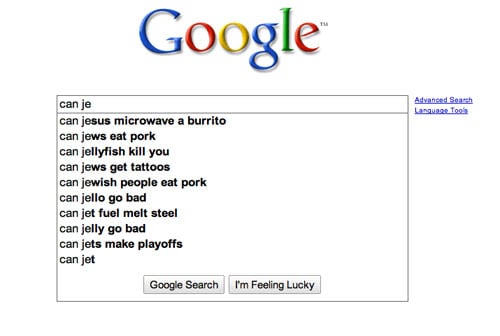 Another paradoxical question worth asking: "If Google unblocks suggestions for 'Islam is,' will they then suggest links pointing out that Google blocks suggestions for 'Islam is?'"
One way or another, Google engineers will actively intervene - the company has said they will - and when they do, you wonder how far they will go. Just as you wonder how far they go in actively tweaking any of Google's search or ad results. Google search is run by algorithms, but algorithms are written by people. And these faceless engineers have more than a little control over what so much of the world sees when visiting the web.
A third metaphysical question worth asking: "If Google is intentionally blocking certain suggestions for 'Islam is' - for whatever reason - would we ever know?" ®
Update
Google has phoned The Reg to reiterate that the "Islam is" situation is a bug and that the company is working to fix it. But the company spokesman could not say when a fix might arrive.
Similar topics