This article is more than 1 year old
Samsung Omnia II
Dazzling display?
Review Samsung's original Omnia created a bit of a stir amid its accompanying hype when it first appeared a year or so ago. While the general consensus was that it was clever and different, it didn't quite have the X-factor to take on the very best of the touch screen smartphone brigade, which still has the iPhone as its enduring Joe McElderry.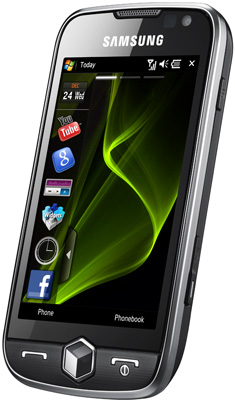 Great view: Samsung's Omnia II
Undaunted, Samsung has pushed ahead with the Omnia II, which has an improved screen, Windows Mobile 6.5 and a host of other new features. The screen size has been bumped by a full half inch to 3.7in, which takes it just over the iPhone mark, though you'd be hard pressed to tell without a ruler. More importantly though, the original Omnia's LCD has been replaced with brighter, more efficient OLED technology.
Beneath the screen are call start and stop buttons flanking a hexagonal button which takes you to the configurable menu, which you can view as a list of icons or as the Samsung TouchWiz UI's spinning cube. A long press also opens the task manager. Around the sides are a volume rocker, plus screen lock, return and camera shutter buttons. The micro USB power/sync slot and 3.5mm headphone jack are on top.
It's fairly lightweight for its size at 130g and measuring 118x16x12mm, though this is partly due to the rather cheap-feeling glossy black plastic casing. Not everyone will mind this, but it doesn't really feel like the heavy duty bit of kit that its spec sheet suggests. Despite the impressive visuals of the screen though, it's resistive, rather than capacitive, which is increasingly looking like an opportunity missed with higher end smartphones.
Happily, it's far from the worst we've seen, and while it certainly isn't as sensitive as the capacitive screen on, oh let's see, the iPhone, it does a reasonable job of distinguishing between taps and presses, though we occasionally found we had to make a few double taps to make our presence felt.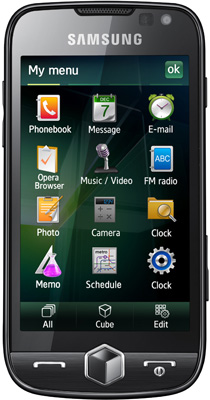 The Touchwiz UI enhances the WinMo 6.5 OS
The marriage of Windows Mobile 6.5 with Samsung's own TouchWiz user interface is well implemented with the two complementing each other, much in the way HTC successfully integrated the two with its TouchPro.