Emulex has announced preliminary results almost 20 per cent higher than expected just as testers confirmed its FCoE adapter goes three times as fast as QLogic's.
Preliminary results for Emulex's second fiscal 2010 quarter show net revenues of $107m - $108m, significantly higher than the guidance of $88m - $92m. It gets Emulex revenues back to where they were a year ago - $108.7m - after three poor intervening quarters with revenues in the $78.6m - $85.5m area. It looks like the recession has been weathered and the distractions of the abortive Broadcom takeover have been left behind.
But that's not all. Emulex has been developing its OneConnect Converged Network Adapter (CNA), which combines the functions of an Ethernet NIC, a TCP/IP accelerator, iSCSI and Fibre Channel host bus adapters (HBAs) in a single product with a single chip. Competitors Brocade and QLogic also have single chip Fibre Channel over Ethernet (FCoE) CNAs, but not single chip CNAs that include the NIC and TCP/IP acceleration as well.
Emulex has plenty of design wins for the Ethernet NIC functionality of its product, but not publicly revealed FCoE design wins. There was one from Verari, but that firm promptly collapsed. Meanwhile, QLogic has been crowing about several FCOE design wins, including one with IBM, traditionally an Emulex fief for Fibre Channel HBAs.
Now Emulex can crow right back as a testing agency, IT Brand Pulse - run by Frank Berry, an ex-QLogic executive - has found that the Emulex CNA goes twice as fast as QLogic's rated on IOPS. A chart can be seen below. Specifically, the Emulex OCe10102 card ran at 919,269 IOPS through a single port with 1KB block transfers. The tester reckons a good 8Gbit/s Fibre Channel HBA runs at half a million IOPS at best. Score one to FCoE.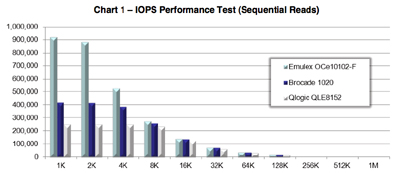 Brocade's 1020 CNA ran at a shade over 400,000 IOPS in the same test. Score two to Emulex. QLogic's QLE8152 CNA trailed behind with a score of around 230,000 IOPS. Score three to Emulex. The chart above shows the scoring at various block sizes and the significant differences emerge around the 4KB block level. As the block sizes increase the inter-product differences disappear.
Emulex says it has three or more FCoE design wins that it can't publicly talk about. If these IOPS figures are truly indicative of real world performance, then Emulex has the highest performance FCoE, up to twice as fast as Brocade's and more than three times quicker than QLogic's. That should get a few more FCoE design wins into Emulex' back pocket, other things being equal.
As for Frank Berry, he can expect frantic calls from QLogic and Brocade as they pore over the test results with a microscope looking for flaws. ®