Apple vanishes multi-touch ancestor
Will Cupertino be doing its own Qwerty work?
---
Fingerworks.com has finally disappeared, five years after Apple bought the company and integrated multi-touch into the iPhone, hopefully paving the way for a new kind of keyboard.
Fingerworks manufactured multi-touch keyboards for those with more money than sense*, enabling the use of gestures and multi-touch interaction with a screen-printed keyboard. Much of that technology found its way into the iPhone, but the company's web site remained active until Monday, when its disappearance was noted by MacRumors.
QWERTY keyboards are an abomination: a layout designed purely to prevent mechanical keys jamming. It persists to this day despite the fact that we know it causes long-term damage to the hands and lots of viable alternatives exist.
Microsoft tried to get rid of QWERTY with the Tablet PC, but manufacturers kept insisting on sticking one underneath the screen - transforming the Tablet into an overpriced laptop. Americans seem particularly attached to QWERTY, and it is one of the criticisms still levelled at the iPhone, despite it having one of the better text-input systems.
In the UK we stopped teaching kids to type in the 1970's, on the basis that keyboards would cease to exist by the time they grew up, but still QWERTY remains obstinately on our desks.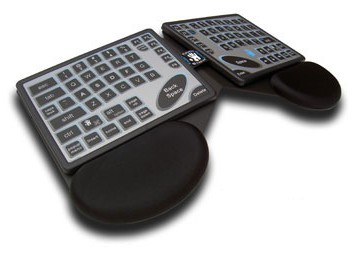 More a series of caresses than taps on keys
But if one must have QWERTY, then a Fingerworks keyboard is the tool of choice - once one is accustomed to the lack of feedback then using gestures and working in silence become second-nature, mice seem positively primitive and you start to wonder why everyone doesn't feel the need to splash hundreds of dollars on a keyboard.
When Apple bought Fingerworks, it not only got the technology, but also numerous patents on multi-touch interaction, though it's worth noting that the vast majority of those patents talk about interacting with a keyboard, and doing so with two hands at the same time.
The removal of the Fingerworks web site might just be a Systems Administrator tidying up the Apple-owned domains, but it could mean the much-anticipated Apple tablet will feature something better than a Bluetooth connection for entering text, which would be good even if it prolongs the life of QWERTY another few years. ®
* Your correspondent included. In his pre-El Reg days he was less sensible.